U.S. SKI & SNOWBOARD TEAM
MIKAELA SHIFFRIN
We sat down with Mikaela right after a two-week speed-training camp in Chile and asked her about her process and what it takes to lead one of the most elite skiing teams in the world.
What was your experience like leading the U.S. Women's Ski team in Chile?
This last camp I was at in Chile, it was two weeks of mainly speed focus. It was the first camp I have done with the U.S. Ski Team where I took more of a leadership role. After last season, I had some very successful races in speed…I felt like a rookie but I was sorta coming into my own. This season I felt more like a leader in my own right. And it was really cool to work together with the coaches, with other athletes, giving course reports, talking about technique or tactics. Feeling like I actually had something to say that made a difference for them.
So they're learning from you, but you're learning something from them.

Yeah! We learn from each other. I think the biggest value I can bring is being a more technical-focused skier. And that is just because I train GS and Slalom all the time and it's much more important to have that really precise technique. So I can bring knowledge from that area to these girls and give them a perspective from an athlete that they might not have really heard before.
You're coming off a huge year. What's different coming into this season?

Well I think the biggest difference is just mentally knowing that I can have success in speed races. I have to say one of the most refreshing things about skiing speed the last couple of years is not having the expectations. Going into the races and just being like "I know I am fast. I feel comfortable with it. And I just want to enjoy this." Those races…they were very, very special. And I'm trying to get my mentality like that for everything. Kind of let go of the expectations because it does not help. It just makes me nervous and it makes me feel like I am disappointing people if I don't meet those expectations. So, striking a balance with my mentality going into this season.
You've reached the pinnacle, but you don't want to stop there.

Yeah, you're always raising the bar. (LAUGHS) …Or trying to!
"Technique has been my first priority since I learned how to ski. I was always focusing on making sure I had the best technique of anybody. Knowing that if technique was there, the speed would come."
- MIKAELA SHIFFRIN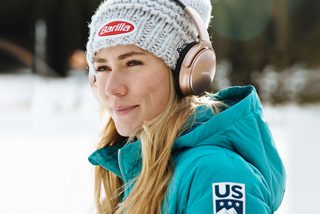 What does technical focus mean? How is it different than any other way of approaching this sport?

Yeah, for me a technical focus is…it's building your foundation, your fundamentals. So when you're skiing fast you can withstand those forces, because you have the proper body positioning to do that. There are athletes out there who will just huck themselves down the mountain. And they will be on their inside ski which is not what you want. You want your weight on your outside ski…you have much more control and much more power from that position. That's all built off of fundamentals and perfecting your technique. Making sure your arms are in the right position, making sure your knees are driving in the right way. Technique has been my first priority since I learned how to ski. I was always focusing on making sure I had the best technique of anybody. Knowing that if technique was there, the speed would come. And that's still one of my biggest focuses.

You often talk about the power of visualization. How does it work and how does it help?

So I do several different kinds of visualizing. Normally the first couple of times, I'll visualize the course anywhere between 20 to 30 times. And it's in slow motion, out of the start gate and different sections of the course. Maybe there's a section that's technically challenging or there's a lot of blind terrain. Sometimes I even rewind myself through the course, if I feel like I am not skiing it right. And then I try to get at least one full-length, start-to-finish normal speed. But there's a bunch of different speeds you do it…just to be able to see yourself, and be able to feel your muscles like how they're supposed to feel if you do it right.

So you're not just visualizing with your mind.

Yeah! It's everything…the feelings, if I know there are some really bumpy turns or something. How is it going to feel trying to hold a really good body position, even though it's really icy and there's a lot of bumpy spots and I have to brace against that. Not just where are you going to be, but how it's going to feel to be there.
That's awesome, thanks Mikaela. And good luck this season.