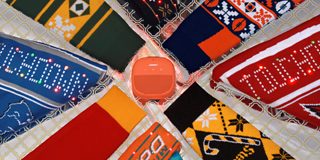 MICRO MOMENT #2
OFFICIAL SWEEPSTAKES RULES AND REGULATIONS
NO PURCHASE OR PAYMENT OF ANY KIND NECESSARY TO ENTER THIS SWEEPSTAKES. PURCHASE WILL NOT INCREASE YOUR CHANCES OF WINNING. VOID WHERE PROHIBITED OR RESTRICTED BY LAW.

SPONSOR: Bose Corporation, The Mountain, Framingham, MA 01701 (www.bose.com).
SWEEPSTAKES DESCRIPTION: The Bose Corporation ("Bose") Micro Moment #2 Sweepstakes ("Sweepstakes") begins on November 28, 2017 at 9:00 AM Eastern Time ("ET") and ends on December 24, 2017 at 11:59:59 PM ET (the "Sweepstakes Period"). The Sweepstakes consists of daily entry periods during the specified Sweepstakes Period, as indicated in communications requesting entries into the Sweepstakes (each a "Call for Entry"). All times in the Sweepstakes refer to ET. A Call for Entry may be given through an email invitation, social media post, or through other media.
ELIGIBILITY: This Sweepstakes is open only to legal United States residents of the fifty (50) United States and the District of Columbia, who are 18 years or older (or the age of majority in their state) at the time of entry as of November 28, 2017. This Sweepstakes is void where prohibited by law and is subject to all applicable laws and regulations. NO PURCHASE NECESSARY. Employees, officers and directors of Bose, The National Football League (the "NFL"), its member professional football clubs, NFL Ventures, Inc., NFL Ventures, L.P., NFL Properties, LLC, NFL Enterprises LLC, NFL Productions LLC, NFL International LLC (collectively, the "NFL Entities"), and their affiliates, subsidiaries, agents, partners and members of the immediate families (defined for these purposes as parents, spouse, children, siblings, grandparents, and each of their respective spouses, regardless of where they reside) or households (whether related or not) or of any of the above are NOT eligible to participate.
HOW TO ENTER: During the Sweepstakes Period a potential entrant may enter the Sweepstakes by following the instructions in the relevant Call for Entries. Entrants must follow all instructions in the relevant Call for Entries, and any information must be complete and accurate. Maximum of one entry per person, per Call for Entry. Non-winning entries from one Call for Entry will not carry over to subsequent Calls for Entries. All entries received after the respective close dates of the Call for Entries will be void. Before being declared a winner, a selected entrant must be in compliance with the Official Rules, and their entry information must be verified. Any prize notification or prize delivery returned as undeliverable may result in disqualification. By entering the Sweepstakes, participant(s) agree to be bound by the Official Rules. Bose reserves the right to remove any entry or posting, or refuse to allow an entry based on content. All entries become the property of Bose and will not be acknowledged or returned. All winners will be required to sign an Affidavit of Eligibility in connection with this Sweepstakes.
To participate, each applicable Call for Entry may require entrants to have accounts with the following social media platforms: Twitter®, Facebook® or Instagram® account. If you do not have the Instagram® app, you may download it through the application store on your device. The Instagram app is free. If you do not have a Twitter® account, you can create one by visiting www.twitter.com. Twitter® accounts are free. If you do not have a Facebook® account, you can create one by visiting www.facebook.com. Facebook® accounts are free. Message and data rates may apply to the use of mobile devices to participate in the Sweepstakes.
Should Entrants choose to enter without completing the specific Call for Entry, entrants may still participate in the Sweepstakes by choosing this Mail in Entry option. Entrants must mail in a 3x5 card including Entrant's name, email address, phone number, and name of the Sweepstakes. Entries may be mailed to Bose Corporation, The Mountain, Framingham MA 01701, Attn: Kristen Bellomo. Mail-in entries must be postmarked by the Sweepstakes Period end date and received no later than five (5) days after the Sweepstakes Period end date. Entrants will receive a maximum of one (1) entry for each Mail-in.
WINNER SELECTION: A Potential winner in each Call for Entry will be selected by random drawing for a chance to win one (1) Bose SoundLink Micro speaker and assorted National Football League Team Merchandise (as described below). Drawings will be conducted by Bose, whose decisions in all matters relating to this Sweepstakes are final. Before a prize is awarded, winners must be in compliance with the Official Rules. All winners will be required to provide sufficient evidence of their identity, by email, phone or in person, and otherwise have complied with the Official Rules to be declared the winner. At the sole discretion of Bose, disqualification and forfeiture may result from any of the following: (1) a potential winner's failure to respond to notification in the time frame designated by Bose; (2) the return of an email notification as undeliverable; (3) a potential winner's failure to provide Bose with satisfactory proof of age, identity, and residency; (4) a potential winner's failure to validly claim the prize within 48 hours of the notification attempt; and (5) any other non-compliance with the Official Rules. In the event of forfeiture, the prize may be awarded to an alternate (time permitting). Upon prize forfeiture, no compensation will be given.
PRIZE DESCRIPTIONS: During the Sweepstakes Period, Entrants under each Call for Entry can win one (1) Bose SoundLink Micro speaker (approximate retail value $109.95) and assorted National Football League Team Merchandise (approximate retail value $70) (the "Prize" and collectively, the "Prizes"). The total value of all Prizes awarded during the Sweepstakes Period is approximately $1,619.55. Limit of one (1) Prize per person and/or household. The winner of the Prize is not entitled to any difference between the actual value of the Prize and the approximate retail value stated herein. The odds of winning the Prize depend on the number of eligible entries received during the Sweepstakes Period. The Prize will be fulfilled within two (2) to ten (10) weeks from the end of the Sweepstakes.
AWARDING OF PRIZES: Prizes must be accepted as awarded. Prizes are non-transferable and non-redeemable for cash. No substitutions, except by Bose, who reserves the right to substitute a prize or any portion of a prize with a prize of equal or greater value.
PUBLICITY CONSENT / RELEASE: By accepting the Prize, the winners agree to allow Bose and its respective subsidiaries and affiliates, promotional and advertising agencies and representatives the right to use his/her name, biographical information, image, photos and/or likeness and statements for programming, promotion, trade, commercial, advertising and publicity purposes in connection with this Sweepstakes, at any time or times, in all media now known or hereafter discovered, worldwide, including but not limited to on television, video, the World Wide Web and Internet, without notice, review or approval and without additional compensation, except where prohibited by law.
Bose respects your right to privacy. Personal information collected from entrants will only be used by Bose to administer the Sweepstakes and, only if consent is actively given at the time of entry, to provide entrants with information regarding upcoming promotions and/or events from Bose.
USE OF DATA: Bose will be collecting personal data about entrants, in accordance with its privacy policy. Please review Bose's privacy policy at: https://www.bose.com/en_us/support/your_privacy_rights.html
By participating in the Sweepstakes, entrants hereby agree to Bose's collection and usage of their personal information and acknowledge that they have read and accepted Bose's privacy policy.
ENTRY ISSUES: Bose and its agents are not responsible for technical, hardware or software failures of any kind, lost or unavailable network connections, failed, incomplete, garbled or delayed computer transmissions including lost, misappropriated or corrupted entries, virus, worm or Trojan Horse damage or any other damage which may limit a participant's ability to participate in the Sweepstakes. Finally, the entrant represents and warrants to Bose that the entry will not contain content that she or he does not have the right to transmit under any law, contract or fiduciary relationship or which contains any viruses or any other information that may damage or otherwise interfere with any computer systems, data or that of other users.
INVALID ENTRY: Bose reserves the right at their sole discretion to disqualify any individual who is found (i) to be tampering with the entry process or the operation of the Sweepstakes; (ii) to be acting in violation of the Official Rules; or (iii) to be acting in an unsportsmanlike or disruptive manner, or with intent to annoy, abuse, threaten or harass any other person. CAUTION: ANY ATTEMPT BY AN ENTRANT OR ANY OTHER INDIVIDUAL TO DELIBERATELY ALTER OR DAMAGE ANY ENTRY OR UNDERMINE THE LEGITIMATE OPERATION OF THE SWEEPSTAKES IS A VIOLATION OF CRIMINAL AND CIVIL LAWS AND SHOULD SUCH AN ATTEMPT BE MADE, THE SPONSORS RESERVE THE RIGHT TO DISQUALIFY SUCH ENTRANT OR INDIVIDUAL AND SEEK DAMAGES OR ANY OTHER REMEDY FROM ANY SUCH ENTRANT OR INDIVIDUAL TO THE FULLEST EXTENT PERMITTED BY LAW.
GENERAL: The Sweepstakes is subject to all applicable federal, state, municipal and local laws. Bose reserves the right to modify or terminate this Sweepstakes at any time without notice to participants. All decisions of Bose shall be final. The Sweepstakes shall be governed by the laws of the Commonwealth of Massachusetts and the federal laws of the United States applicable therein without giving effect to any choice of law or conflict of law rules or provisions that would cause the application of any other jurisdiction's laws.
The invalidity or unenforceability of any provision of these Official Rules shall not affect the validity or enforceability of any other provision. In the event that any provision is determined to be invalid or otherwise unenforceable or illegal, these Official Rules shall otherwise remain in effect and shall be construed in accordance with the terms as if the invalid or illegal provision were not contained herein.
All taxes, fees, and surcharges on prizes are the sole responsibility of the prize winners. Any winner agrees to provide Bose with necessary information to complete any necessary I.R.S. 1099 and other forms.
ENTRANTS ACKNOWLEDGE AND AGREE BY PARTICIPATING IN THE SWEEPSTAKES THAT THEY MAY BE WAIVING CERTAIN LEGAL RIGHTS THAT THEY MAY OTHERWISE HAVE.
BY PARTICIPATING IN THE SWEEPSTAKES, EACH ENTRANT RELEASES AND HOLDS HARMLESS AND AGREES TO INDEMNIFY BOSE AND ITS RESPECTIVE PARENT COMPANIES, SUBSIDIARIES, AFFILIATES, ADVERTISING AGENCIES, PUBLIC RELATIONS AGENCIES, PRIZE SUPPLIERS, INCLUDING ANY VENDORS PROVIDING SERVICES AND THE NFL ENTITIES AND EACH OF THEIR RESPECTIVE SUBSIDIARIES, AFFILIATES SHAREHOLDERS, OFFICER, DIRECTORS, AGENTS, REPRESENTATIVES AND EMPLOYEES (COLLECTIVELY, THE "RELEASED ENTITIES") IN CONNECTION WITH THIS SWEEPSTAKES AND HOLD THEM HARMLESS FROM AND AGAINST ANY AND ALL COSTS, CLAIMS, DAMAGES, (INCLUDING, WITHOUT LIMITATION, ANY SPECIAL, INCIDENTAL OR CONSEQUENTIAL DAMAGES), OR ANY OTHER INJURY, WHETHER DUE TO NEGLIGENCE OR OTHERWISE, TO PERSON(S) OR PROPERTY (INCLUDING, WITHOUT LIMITATION, DEATH OR VIOLATION OF ANY PERSONAL RIGHTS, SUCH AS VIOLATION OF RIGHT OF PUBLICITY/PRIVACY, LIBEL, OR SLANDER), DUE IN WHOLE OR IN PART, DIRECTLY OR INDIRECTLY, TO PARTICIPATION IN THE SWEEPSTAKES, OR ARISING OUT OF PARTICIPATION IN ANY SWEEPSTAKES RELATED OR PRIZE RELATED ACTIVITY, OR THE RECEIPT, ENJOYMENT, PARTICIPATION IN, USE OR MISUSE, OF ANY SWEEPSTAKES OR PRIZE RELATED ACTIVITY, WHETHER HOSTED BY BOSE OR A THIRD PARTY. FOR CLARIFICATION, THE NFL ENTITIES AND EACH OF THEIR RESPECTIVE SUBSIDIARIES, AFFILIATES, SHAREHOLDERS, OFFICERS, DIRECTORS, AGENTS, REPRESENTATIVES AND EMPLOYEES WILL HAVE NO LIABILITY OR RESPONSIBILITY FOR ANY CLAIM ARISING IN CONNECTION WITH PARTICIPATION IN THIS PROMOTION OR ANY PRIZE AWARDED. THE NFL ENTITIES HAVE NOT OFFERED OR SPONSORED THIS PROMOTION.
IN NO EVENT WILL THE RELEASED ENTITIES BE RESPONSIBLE OR LIABLE FOR ANY DAMAGES OR LOSSES OF ANY KIND, INCLUDING DIRECT, INDIRECT, INCIDENTAL, CONSEQUENTIAL OR PUNITIVE DAMAGES ARISING OUT OF YOUR ACCESS TO AND PARTICIPATING IN THE SWEEPSTAKES AND/OR DOWNLOADING FROM AND/OR PRINTING MATERIAL DOWNLOADED FROM ANY WEBSITES ASSOCIATED WITH THE SWEEPSTAKES. WITHOUT LIMITING THE FOREGOING, THIS SWEEPSTAKES AND ALL PRIZES ARE PROVIDED "AS IS" WITHOUT WARRANTY OF ANY KIND, EITHER EXPRESS OR IMPLIED, INCLUDING BUT NOT LIMITED TO, THE IMPLIED WARRANTIES OF MERCHANTABILITY, FITNESS FOR A PARTICULAR PURPOSE OR NON-INFRINGEMENT. SOME JURISDICTIONS MAY NOT ALLOW THE LIMITATIONS OR EXCLUSION OF LIABILITY FOR INCIDENTAL OR CONSEQUENTIAL DAMAGES OR EXCLUSION OF IMPLIED WARRANTIES SO SOME OF THE ABOVE LIMITATIONS OR EXCLUSIONS MAY NOT APPLY TO YOU. CHECK YOUR LOCAL LAWS FOR ANY RESTRICTIONS OR LIMITATIONS REGARDING THESE LIMITATIONS OR EXCLUSIONS.
NO AFFILIATION WITH TWITTER, FACEBOOK, OR INSTAGRAM: This Sweepstakes is in no way sponsored, endorsed or administered by, or associated with Instagram, Twitter, or Facebook. Any questions, comments or complaints regarding the Sweepstakes should be directed to Bose.
WINNER LIST: A list of winners will be provided within one week after the end of the Sweepstakes Period. To view the list of winners, email Kristen_Bellomo@bose.com