Overview
Introducing the Bose ProFlight Series 2 Aviation Headset



We designed the ProFlight Aviation Headset with commercial aviators, airline pilots, and lower-noise corporate flight deck environments in mind. Now, we've updated and improved ProFlight Series 2 to meet the exact specifications of the professional pilot community.

The new ProFlight Series 2 includes all the technology, noise cancellation, and clarity pilots appreciated in the original ProFlight, and it remains our smallest, lightest, and most comfortable aviation headset.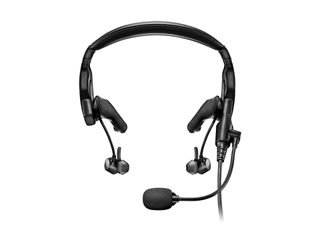 Digital active noise cancellation
Significantly reduces ambient noise, allowing users to lower radio volume and hear what they need to hear.

Bluetooth® connectivity and audio prioritization
Connect wirelessly to mobile devices, audio systems, and electronic flight bags. Audio prioritization allows users to mix Bluetooth audio with intercom audio, or have intercom transmissions temporarily mute Bluetooth.

New 4.5-ounce (128-gram) on-head weight
For enhanced comfort during extended use.

Three user selectable modes of noise cancellation, now with improved low mode
Adjust noise cancellation levels according to personal preference and noise environment.

Updated tap control for talk-through communication
Double tap either earbud to optimize audio for communication outside of the intercom.

New thin, flexible cable
Lighter, more supple cable allows improved freedom of movement and easy storage.

Easily adjustable mic
New mic winglets allow for precise mic and boom adjustments. Noise cancelling microphone increases clarity and reduces background noise when transmitting. Engineered for aircraft with "hot mic" or PTT systems.

The ProFlight Series 2 weighs in at just 4.5 ounces (128 grams) on your head — light enough to stay comfortable even on the longest flights.

ProFlight Series 2 also includes a new thinner, lighter, and more flexible cable. Enhancements to the cable provide pilots improved freedom of movement and allow easy unpacking and storage.

Easily configured to meet your needs



Choose from three levels of active noise cancellation, control wireless Bluetooth connections to mobile devices,* audio systems, and electronic flight bags, and manage other primary functions of the ProFlight Series 2 from the ergonomic control module. The included lanyard provides easy and stable storage during flight.

*On select models. ProFlight Series 2 is now available without Bluetooth.

Easy Bluetooth operation and prioritization in the Bose Connect app



Connect wirelessly to mobile devices, audio systems, and electronic flight bags with the ProFlight Series 2's optional Bluetooth functions. Audio prioritization enables you to mix Bluetooth audio with intercom audio or have intercom transmissions temporarily mute Bluetooth.

The Bose Connect app makes Bluetooth audio sharing, connection management, pairing, unpairing, and renaming devices easy and user-friendly.

Deceptively light, impressively tough



Extensive testing in the Bose design assurance lab ensures that our ProFlight headsets are tough enough to withstand extended use in demanding environments. See how we tested the original ProFlight in this video. A five-year worldwide limited warranty provides further peace of mind.

Choose your headset to match your mission

Both the improved ProFlight Series 2 and the A20 Aviation Headset are products of decades of research and development. Both are FAA TSO and EASA E/TSO-C139a certified, and both feature advanced noise cancellation technology — but each is designed for different flight deck and cockpit environments.

Specs
ProFlight Series 2 Aviation Headset

Carry case

Carry case hook

2 AA batteries

Control module holder

3 sizes of StayHear+ tips (S, M, L)
Support
Owner's guide
Quick start guide