Free 2-day shipping for orders of $99 or more | Free return shipping | 90-day risk-free trial | Free support
You've selected the maximum numbers of items (4) to compare.
Maximum of 4 items reached
You can only compare similar products.
Only compare similar products.
Select 2 to 4 products to compare
The library of Dolby Atmos-encoded content is growing, but much of what's available today remains 5.1 or stereo sound. That's why our smart wireless soundbars feature TrueSpace. It analyzes and upmixes signals other than Atmos to provide fully immersive, multi-channel sound for all entertainment — so everything gets an added layer of immersion and realistic height effects.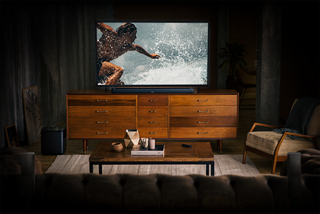 Wireless bass module
Heart-pounding bass adds more depth and impact to everything from explosive movie effects to house-rocking playlists.
Bose Smart Soundbar
Dolby Atmos, proprietary TrueSpace, and upward firing transducers elevate the sound experience of all your entertainment.
Wireless surround speakers
Round out a full home theater system and put yourself in the middle of the story.