Overview
Overview
EVERYTHING FROM ALEXA.
AMPLIFIED.
For a limited time, we're offering a bundle of our SoundTouch 10 wireless speaker with the new Amazon Echo Dot with Alexa. Playing music is easier than ever with voice access to streaming services like Amazon Music, Spotify, Pandora, iHeartRadio and TuneIn. And everything else that Alexa can do is played back in surprisingly full sound.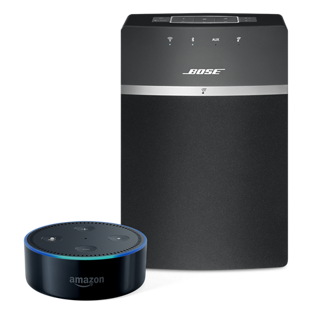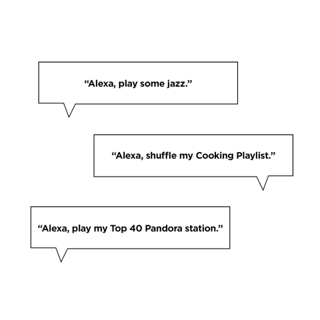 Want music? Just ask.
So, what's Echo Dot? It's a convenient, hands-free way to use Alexa, the smart voice control assistant from Amazon, over your home Wi-Fi® network. Alexa can play music, get your news, manage smart home devices and more. So when you pair it with a SoundTouch 10 speaker, it plays everything back in full-range sound.
And the bundle makes streaming music easier than ever. Just pair your speaker with Echo Dot and tell Alexa what you want to hear. It gives you voice-controlled access to Alexa streaming music services like Amazon Music, Spotify, Pandora and more, and can hear you from across the room—even when music's playing.
With this bundle, Alexa has never sounded better. And you'll get powerful sound from a wireless speaker that makes streaming music effortless.


Balanced sound, compact design
The SoundTouch 10 wireless speaker is compact enough to fit most anywhere, with full, rich sound that belies its size. With Echo Dot you'll get instant voice access to your music, so it's the perfect companion to fit any occasion, room and mood. And set up in minutes. Download the Alexa and SoundTouch apps, and then follow the simple guided steps.
On their own, SoundTouch speakers deliver a world of wireless music.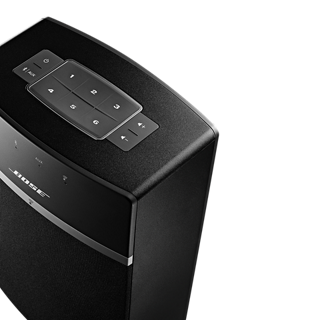 Made for the way you live. And the way you listen.
Fill an apartment with sound or flood a home with music. SoundTouch speakers are made for the way you live—and they're made to grow with you, too. Once you have one, you can add more anytime. So as you go room to room, your music goes along with you. Use them to play different music in different rooms, or the same music in every room. And with the bundle, you have even more options. Pair Echo Dot with a select SoundTouch speaker, or make it part of a SoundTouch ecosystem.
And our integration with Echo Dot is always improving—we'll send occasional updates right to your speaker that expand the capabilities.


Specifications
Specifications
Dimensions/weight
Speaker:

8.34" H x 5.56" W x 3.43" D (2.89 lbs)

Remote:

4.5" H x 1.75" W x 0.5" D (1.76 oz)

Echo Dot:

1.3" H x 3.3" W x 3.3" D (5.7 oz)
Additional details
Built-in Wi-Fi and Bluetooth®
Wireless network compatibility: 802.11 b/g/n
Supported audio formats: MP3 WMA, AAC, FLAC, Apple Lossless

What's in the box?
SoundTouch 10 wireless speaker
Power cable
USB cable
Remote control
Amazon Echo Dot
Reviews
FAQs
FAQs
What are the benefits of using these two products together?
When paired, the Bose speaker is the audio output of the new Echo Dot, so every interaction with Alexa will sound amazing.
Playing music is easier than ever: Just say "Alexa, play the Beatles."
Enjoy all of Alexa's abilities with Bose-quality sound: Access music, news, alarms, weather and much more using just your voice.

Enjoy voice-controlled access to Spotify, Pandora, Amazon Music, iHeartRadio and more through Alexa.
How do I set up these two products together for the first time?
Follow the SoundTouch 10 instructions to set up the SoundTouch 10 and download the latest software. Then follow the Amazon Echo Dot setup instructions and connect it to the SoundTouch 10 over Bluetooth. More detailed instructions can be found at www.Bose.com/EchoDot
Will the Amazon Echo Dot work with my other Bose SoundTouch speakers?
Yes, it is compatible with Bose SoundTouch 10, SoundTouch 20 Series III and SoundTouch 30 Series III speakers.
How do the SoundTouch 10 and the Amazon Echo Dot work together?
With the Amazon Echo Dot connected to the SoundTouch 10 speaker, you can ask Alexa to play music, and it will come out of the SoundTouch 10 speaker. The Echo Dot's microphones pick up your voice command, and the Echo Dot sends Alexa's audio response to the SoundTouch 10 speaker over Bluetooth.
What are my options for connecting the two products?
You may connect via Aux or Bluetooth. While an Aux connection is possible, we strongly recommend all connections be made via Bluetooth to ensure ideal experience of the bundle.
Can two SoundTouch 10 speakers be stereo paired?
Yes, with two SoundTouch 10 speakers, you can separate left- and right-channel audio to form a stereo pair thus creating a wider, more natural sound field.
What is needed to set up my SoundTouch speaker?
All you need is a home Wi-Fi network and a smartphone or tablet. Everything else required is included in the box.

Does the speaker have a battery?
No, it does not have a battery.

Does the system support Bluetooth ?
Yes. Users can wirelessly stream music from a Bluetooth device to listen to even more sources, such as YouTube.
Support