Using and controlling front console A/V inputs
The front analog A/V and HDMI® inputs are provided for temporarily connecting sources such as digital and video cameras.
Plug the source into the analog A/V or HDMI connector on the front of the A/V control console. It will not appear in the SOURCE menu until it is plugged in.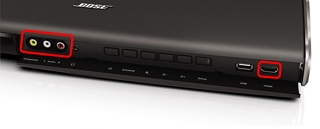 on the remote, press source and select a/v (front) or hdmi (front)
Note: The click pad remote cannot control a source connected to either input. You need to use the controls on the device itself or the remote that came with it.