SEARCH
Enter a search term in the field above.
Nothing found. Please enter a valid search (i.e., connection help, no audio from headphones, etc.).
Back to article
3348
Speaker placement and positioning
Speaker placement can affect how your system sounds in the listening area. Get tips on positioning your speakers for the best sound quality.
Placement suggestions:
Front speakers
Place one speaker to the left and one speaker to the right of the TV
Keep each speaker within 3 feet of the TV, if possible
Keep speakers at least 3 feet apart
Aim the speakers toward the listening area
When placing the speakers in an enclosed bookcase shelf, position them at the front edge of the shelf
Center speaker
Place the center speaker on a stable and level surface directly above or below the TV
Rear speakers
The rear (surround) speakers should be located in the rear half of the room, preferably behind the listener
Place the speakers at ear level or higher if possible
Console
Place the console near the TV. Do NOT place the TV on top of the console
Make sure there is an AC (mains) outlet nearby
Acoustimass module
Stand the Acoustimass module on its rubber feet along the same wall as the TV, or along any other wall in the front third of the room
Do not block the vent openings at the back of the Acoustimass module. This could cause the module to overheat
The Acoustimass module can safely sit on its side, but do not stand it on the end with the port or on the end opposite the port
The Acoustimass module is not magnetically shielded, and must be placed at least 18 to 24 inches from a TV monitor
Note: Only CRT style TVs are affected. This includes tube style TVs and rear projection with CRTs
Choose a stable and level surface. Vibration can cause the Acoustimass module to move, particularly on smooth surfaces like marble, glass or highly polished wood
Make sure there is an AC (mains) outlet nearby
 
SoundTouch wireless adapter (available separately)
Place the SoundTouch wireless adapter within 1 to 6 ft. (.3 to 1.8 m) of the console
Do not connect the adapter to the console until prompted by the SoundTouch app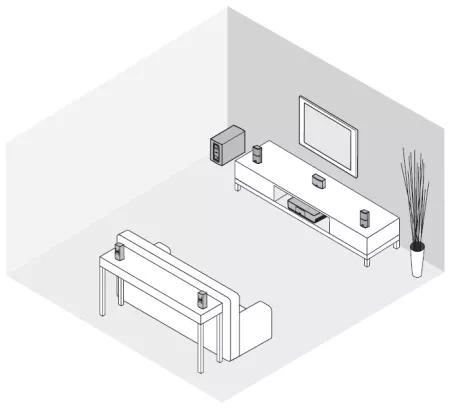 Was this article helpful?
Thank you for your feedback!