SEARCH
Enter a search term in the field above.
Nothing found. Please enter a valid search (i.e., connection help, no audio from headphones, etc.).
Back to article
3348
Setting the Directivity Mode
The microphones in your earbuds can focus differently on the sound going on around you. You can select from three levels of sound direction: Focused, Front and Everywhere. This can be useful to help focus more or less on sound coming from a certain area around you.
Adjust the sound direction using the World Volume buttons
To toggle between the three Directivity options, press the up and down arrows simultaneously. In your ear, you'll hear three different types of tones.
For Focused, listen for the high tone
For the Front Directivity setting listen for a medium tone
To hear all sounds around you, press both triangles simultaneously until you hear the low tone
Note: To set Focused Directivity when the earbuds are not in your ears, In-Ear Detection must be turned off. For more info, see
Using the In-Ear Detection feature
.
Controlling sound directivity using the Hear app:
The microphones in your earbuds can focus on sounds from different areas around you.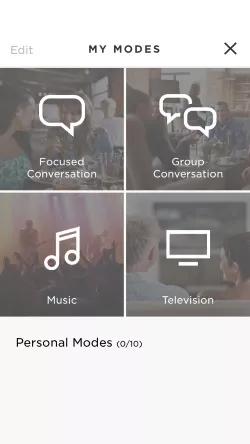 Select one of the following Directivity settings in the Hear app based on your surroundings: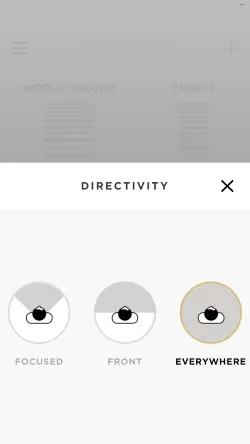 Select Focused to have a conversation with someone in a noisy setting




Select Front to concentrate on a conversation with people in front of you while reducing noise from behind you




Use Everywhere when it's important to hear sounds from all directions (such as crossing the street) or watching TV and listening to music




Tap the + icon in the upper-right to create and customize a mode
Was this article helpful?
Thank you for your feedback!