SEARCH
Enter a search term in the field above.
Nothing found. Please enter a valid search (i.e., connection help, no audio from headphones, etc.).
Back to article
3348
Setting the adjustable Active Noise Cancellation mode
The noise cancellation in your headphones can be set higher or lower. This is useful in environments where you want to hear more or less of the sound around you.
Noise Cancelling Modes
Noise cancelling reduces unwanted noise, providing a clearer and more lifelike audio performance. You can choose between two noise cancelling modes: Quiet and Aware.
Quiet Mode allows you to block out distractions using the highest level of noise cancellation
Aware Mode provides full transparency and allows you to hear your surroundings while enjoying your audio. Choose your noise cancelling mode based on your listening preferences and environment
To switch between Quiet Mode and Aware Mode, press the 
Action
 button. The Action button is located on the back of the left earcup.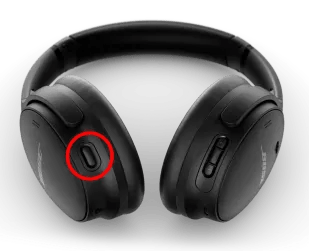 A voice prompt announces the selected noise cancelling mode.
You can also change the noise cancelling mode using the Bose Music app.
Was this article helpful?
Thank you for your feedback!