SEARCH
Enter a search term in the field above.
Nothing found. Please enter a valid search (i.e., connection help, no audio from headphones, etc.).
Back to article
3328
No audio from product
If your product seems to be set up properly but does not produce sound, try the following:
Check the volume level of the Bose system.
Be sure the system volume is not turned down. Using the volume control, gradually increase the volume level.
Turn up the volume of the connected device.
Set the device volume to 90–100% to send a strong signal to your product. Then, use your product to adjust the volume level.
Reboot the Bluetooth® device.
Electronics might need to be reset on occasion to correct minor issues. This is typically done by shutting down the device, then powering it on again.
Be sure your product is within 33 feet (10 meters) of the Bluetooth® device.
Bluetooth range is about 33' (10 m). This range can be reduced by obstacles (i.e. walls, doors, pockets, nearby Bluetooth devices, etc.). Try moving the device and product closer together.
If adding a device to Windows 10, be sure to connect to the Bluetooth® device with the headset or speaker icon.
In Windows 10, your product shows up twice in the Bluetooth device list: once with a device icon and
LE
before the product name and
once with a headphones or speaker icon. Select the option with the headphones or speaker icon. Do not select the
LE
listing.
Tip: If you already paired to the device icon, just connect your product again and choose the listing with the headphones or speaker icon. For more info, see 
Connecting a Bluetooth® device
.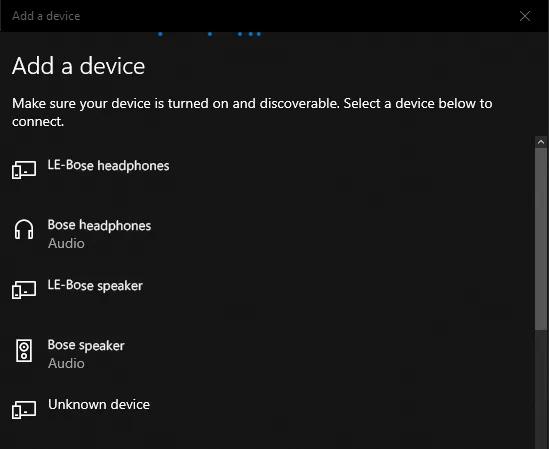 Check the status of the battery indicator.
Update your system software.
Try a different app.
If the issue only occurs with a particular app, it is likely related to the app or app settings.
Some third-party phone/video call apps are not supported with Bluetooth® speakers.
Bluetooth speakers support Hands-Free Profile (HFP) but not Headset Profile (HSP) for Bluetooth profiles. Many apps – including Skype, WhatsApp and Facebook Messenger and others – use the HSP profile. Because of this, calls made using apps without HFP support will not be heard or controlled through the Bluetooth speaker.
Determine if the issue occurs with another Bluetooth® device.
The source device currently paired to your product may be causing the issue. Try pairing a different Bluetooth source to see if the issue is isolated to that device.
If using an Amazon Echo Dot, clear the Dot memory of other Bluetooth® devices.
If the Dot disconnects from your product, it and your product both look for previously-connected devices to reconnect. This can result in the two products not finding each other. To prevent this, remove all devices except your Bose product from the paired device memory of the Dot: In the Amazon Alexa app, go to Settings > Alexa device > Bluetooth, then select and Forget other devices. Now, if the Dot disconnects, it will only try to reconnect your Bose product.
Clear your product's memory of previously paired Bluetooth® devices, then reconnect.
Try connecting a different audio device.
If available, connect another audio device using the same cables and connections to determine if the issue is related to the first device or its settings.
Reset your product.
Much like rebooting a smartphone, your product might need to be reset on occasion to correct minor issues. For more info, see
Resetting your product
.
Your product may need service.
If the steps provided do not resolve your issue, your product may need service. Follow the link below for more information on how to service your product. Depending on your product and region, you will be provided a contact number or the ability to setup service online.
Click here to start service
Was this article helpful?
Thank you for your feedback!