SEARCH
Enter a search term in the field above.
Nothing found. Please enter a valid search (i.e., connection help, no audio from headphones, etc.).
Back to article
3329
Poor sound quality from product
If you experience distortion, crackling, static, noise or unexpected poor sound quality from your product:
Do you hear static or distorted audio while in noisy environments?
Try a different app.
If the issue only occurs with a particular app, it is likely related to the app or app settings.
Try connecting a different audio device.
If available, connect another audio device using the same cables and connections to determine if the issue is related to the first device or its settings.
If connected, bypass any adapters or extension cables.
If your product connects to the device using an extension cable or adapter, disconnect the extension cable or adapter to determine if the issue is related to it.
Unplug and reconnect the audio cable in the connected device.
On the connected device, disconnect the cable that connects your headset. Then, reconnect it to be sure it is fully connected and secure. (Tip: While connected, if you rotate the plug in the jack and hear crackling or intermittent sound, there might be debris or an issue with a contact inside the jack.)
Make sure you are using StayHear+ eartips.
These headphones are designed specifically for use with StayHear+ eartips. Use of any other eartips, including original StayHear tips, will result in low audio, poor sound quality and/or reduced noise cancellation.
Your StayHear+ Tips should look like this: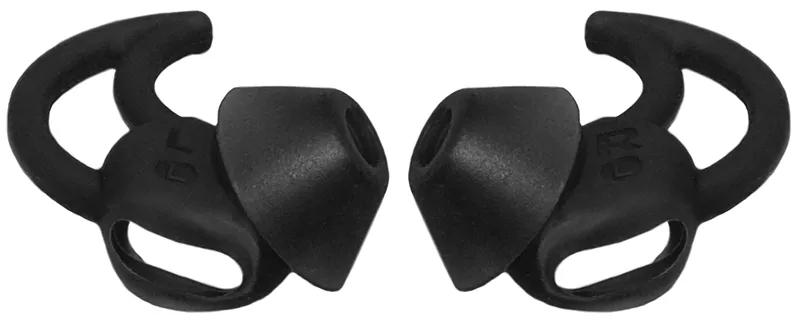 Plug in a different pair of headphones.
Connect another pair of headphones to the audio device to determine if the issue is with the device or its settings.
Your product may need service.
If the steps provided do not resolve your issue, your product may need service. Follow the link below for more information on how to service your product. Depending on your product and region, you will be provided a contact number or the ability to setup service online.
Click here to start service
Was this article helpful?
Thank you for your feedback!