SEARCH
Enter a search term in the field above.
Nothing found. Please enter a valid search (i.e., connection help, no audio from headphones, etc.).
Back to article
3348
Connecting the bass module
A bass module helps to enhance the low frequencies played from your system. Find out how to connect a bass module.
To connect a bass module to the soundbar using a wired connection:
Connect a 1/8" (3.5 mm) stereo cable from the ACOUSTIMASS jack on the soundbar to the ACOUSTIMASS IN jack on the bass module.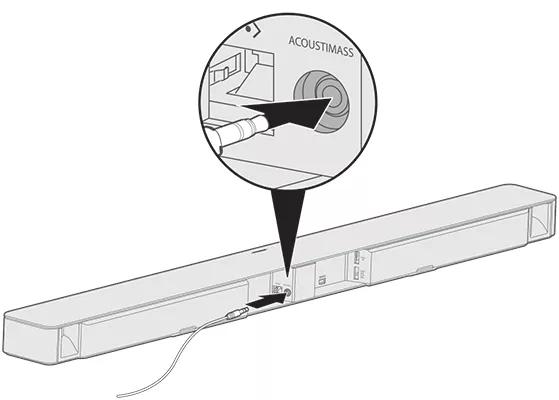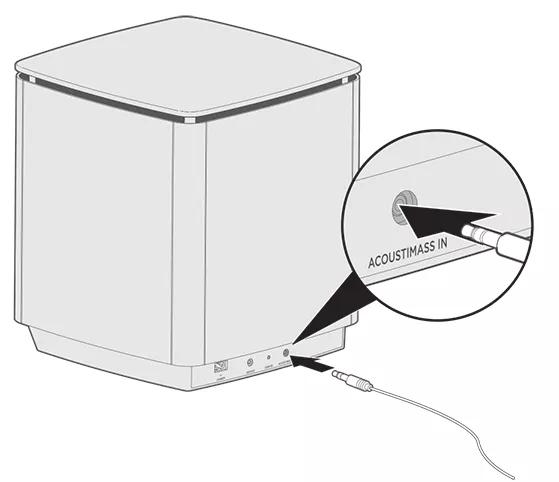 To wirelessly connect the bass module or optional wireless surround speakers:
Connect either the bass module or surround speakers to power
On the remote control, press the SoundTouch button
Press and hold 7 on the remote until the connectivity indicator on the soundbar blinks white. Once connected, the connectivity indicator on the soundbar glows white and a tone is heard from the connected speaker(s)




To connect additonal speakers, repeat these steps. (Note: One pair or surround speakers and up to two bass modules can be connected)
Additional info:
Your system can connect one or two bass modules. To connect two, both must be the same model and also connected wirelessly
You can connect a bass module even if Wi-Fi and Bluetooth® are disabled on your soundbar
If the bass module is plugged in to the soundbar with a wired connection, it cannot also be connected wirelessly
If the soundbar does not pair with the bass module or surround speakers, unplug the power cords for the soundbar, bass module and/or surround speakers, wait 15 seconds, then reconnect and try again
Select whether to set up the bass module using the Bose Music app or the Bose remote:
Was this article helpful?
Thank you for your feedback!