SEARCH
Enter a search term in the field above.
Nothing found. Please enter a valid search (i.e., connection help, no audio from headphones, etc.).
Back to article
3338
Three lights glow solid on the charging case
If the 1st, 3rd and 5th LED lights on charging case are lit and glowing solid white, an error occurred with the case. To resolve this, try the following:
Try a different USB cable.
Try connecting your product with a different USB cable to determine if there is an issue with the first cable.
Try a different charger.
Charge times can vary based on the charger. Chargers with a higher current rating generally charge products faster than those with a lower rating. Chargers typically list a current rating on the label in Amps (A) or milliamps (mA). A current rating of 1 A / 1000 mA or higher is recommended.
Try resyncing the earbuds and charging case.
Turn off Bluetooth on all devices within 30 ft of the earbuds.
Place earbuds in the charging case for 5 seconds.
Remove earbuds from the case. The earbuds and charging case should now communicate as normal.
If your product has been in extreme hot or cold temperature, wait until it reaches room temperature.
If the battery temperature is beyond the operating temperature range, wait until the product reaches room temperature, then try again.
Check for and install any available product updates.
Reset your product.
Much like rebooting a smartphone, your product might need to be reset on occasion to correct minor issues. For more info, see
Resetting your product
.
Go to btu.bose.com to clear the error
You can reset the error lights by going to
btu.bose.com
 via a computer:
Connect the product to a computer via a USB cable 
Go to btu.bose.com
The application will check the error and clear it automatically. In some cases if your firmware is already up-to-date, you may see a prompt to continue. Click "OK" to reset the error.
Please note: This warning may appear once connected. If so, click "ACCEPT & PROCEED."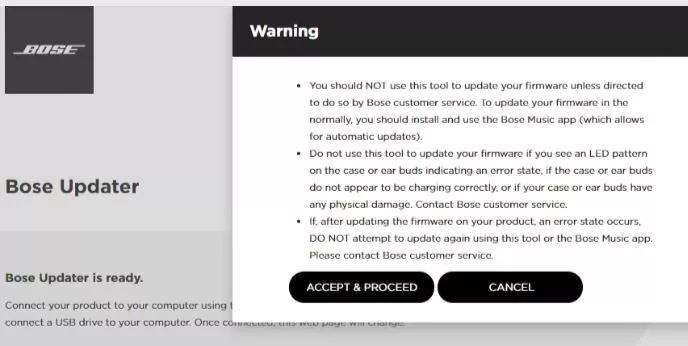 If this does not work and the LED state doesn't change, your product will need service.
Your product may need service.
If the steps provided do not resolve your issue, your product may need service. Follow the link below for more information on how to service your product. Depending on your product and region, you will be provided a contact number or the ability to setup service online.
Click here to start service
Was this article helpful?
Thank you for your feedback!