SEARCH
Enter a search term in the field above.
Nothing found. Please enter a valid search (i.e., connection help, no audio from headphones, etc.).
Back to article
3348
Using Chromecast with your Bose speaker
After Chromecast built-in is activated on your Bose smart speaker, smart soundbar or amplifier; you can begin streaming music or podcasts via the following steps.
Verify the Chromecast Built-in feature is enabled for the speaker.
In the Bose Music app, check the Chromecast Built-in feature is enabled for the speaker you would like to cast to. For more information, see
Enabling or Disabling Chromecast Built-in
. If there are multiple speakers in your Bose Music account, the feature would need to be enabled for each speaker. This feature is not available with Bose headphones; It is only available with network-connected speakers compatible with the Bose Music app.
To send audio to your Bose speaker using Chromecast:
Within a cast-enabled music streaming service (such as YouTube Music Premium, Spotify, Pandora, TuneIn, or iHeartRadio), tap on the Chromecast icon .
If the icon does not appear in the app, be sure your device is on the same network as the speaker being played to. Otherwise, close and re-open the music streaming app.
In the list of Chromecast-enabled speakers (and speaker groups) found on the network, select the Bose smart speaker or soundbar.
Locate the music or podcast you'd like to listen to then press Play. Only audio can be cast to Bose speakers; Video content cannot be cast.
When the Chromecast connection has been made, the Chromecast icon will appear filled-in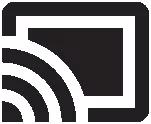 . Tap on this icon to adjust the volume level of the connected speaker. If casting to a speaker group, a group volume level slider will be presented. Tap on the expand icon at the end of volume bar to see and adjust the volume levels of the speakers in the group.
Was this article helpful?
Thank you for your feedback!