SEARCH
Enter a search term in the field above.
Nothing found. Please enter a valid search (i.e., connection help, no audio from headphones, etc.).
Back to article
3350
LEDs not working while updating the earbuds
If the status lights on the charging case are not behaving as instructed during a product update, please follow these steps:
Check if you have the latest software version.
It's possible that you product has been updated even though the status lights on the charging case didn't blink or react as instructed during the update process.
Check to see if your earbuds have the most up to date software version.
Take the earbuds out of the case and place them in your ears.
In the Bose music app, go to the settings menu>Tech Info and check the Firmware Version listed. See  Checking the software or firmware version for complete instructions.
Go to Software and firmware versions and then compare the earbuds version in the app to the latest one listed in the software chart.
If your firmware is up to date, there's nothing further you need to do.
Going forward, you will be prompted in the Bose Music App when a new update is available.
Force close and restart the app to try activating again
In the Bose music app settings, go to technical info. If you see this message, you should close the app and restart it to try activating again.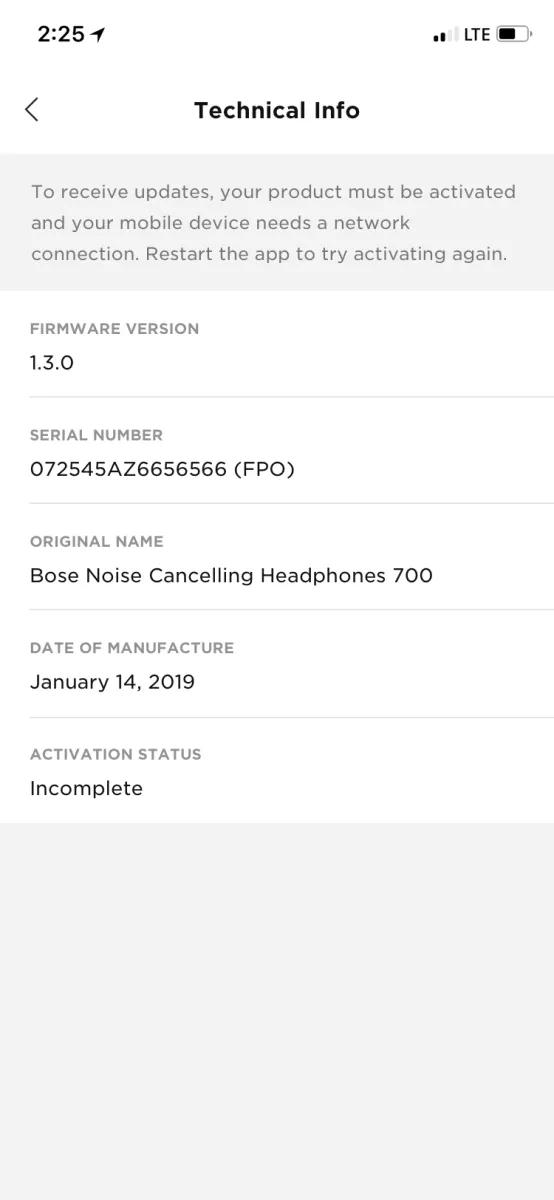 Image may differ in appearance from the actual product.
Reset your product.
Much like rebooting a smartphone, your product might need to be reset on occasion to correct minor issues. For more info, see
Resetting your product
.
Your product may need service.
If the steps provided do not resolve your issue, your product may need service. Follow the link below for more information on how to service your product. Depending on your product and region, you will be provided a contact number or the ability to setup service online.
Click here to start service
Was this article helpful?
Thank you for your feedback!