SEARCH
Enter a search term in the field above.
Nothing found. Please enter a valid search (i.e., connection help, no audio from headphones, etc.).
Back to article
3348
Cannot connect optical cable
If you have difficulty plugging in an optical cable to the optical digital audio jack on your system, try the following:
Be sure to remove the protective cap on the optical connector.
Optical cables have a protective cap on the connector. This cap must be removed before inserting the connector into its jack.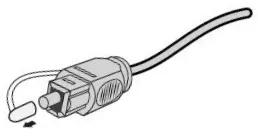 .
Was this article helpful?
Thank you for your feedback!