Overview
ENHANCE YOUR FLYING EXPERIENCE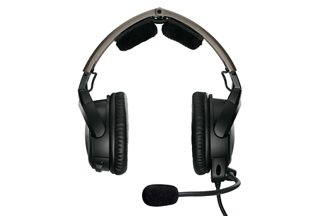 Clear audio
with active equalization

Comfortable, stable fit
30% less clamping force than conventional aviation headsets.
Acclaimed noise reduction
30% greater active noise reduction than conventional aviation headsets.
Bluetooth® audio and communications interface
For connectivity with your communications and navigation devices.

High performance microphone
For clear outgoing transmissions.
The A20 headset gives you 30% greater noise reduction than conventional aviation headsets, so you'll enjoy a peaceful flight from short stops to long hauls. And at just 12 ounces, with sheepskin cushions and minimal clamping force, it's one of the lightest and most comfortable aviation headsets you'll find. All designed to let you focus on what matters—flying.
The ergonomic control module includes an auxiliary audio input with intercom/AUX priority switching, ideal for dedicated GPS and traffic warning systems. It also features a customizable audio prioritization control with "mute" and "mix" settings, and flexible power circuitry with auto-on that switches to and from battery power and aircraft power. Select models also include Bluetooth connectivity for taking calls or listening to music.
For all types of aircraft
The A20 Aviation Headset is available in dual plug, 6-pin plug and U174 plug models and a variety of configurations designed for use in all types of general aviation aircraft, including helicopters.
An aviation headset that's just your type

Now there's also a Bose headset for the whole spectrum, from the single-engine cockpit to the airliner flight deck.