Overview
The new Bose Smart Soundbar 300 delivers spacious sound, clear dialogue, and rich bass for your movies, music, and games. The acoustic architecture is specially designed to keep this new soundbar sleek and elegant. With built-in voice assistants and exclusive Bose Voice4Video™ technology, what typically takes several steps can now be done with one simple voice command. It's fast, simple, and easy enough for everyone to enjoy.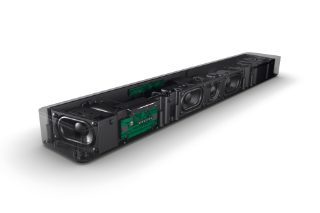 Acoustic performance
Four full-range drivers work together to separate and direct sounds left and right to deliver spacious, enveloping sound while the center tweeter clarifies speech for clear dialogue.

SimpleSync™ pairing 
Pair your soundbar with select Bose headphones for individual listening levels or with select Bose Bluetooth speakers for dual-speaker music listening.  
Clear voice pickup
A noise-rejecting mic system listens in every direction for your command — even if the soundbar's playing loudly. Or you can disable listening anytime with the mic-off button.
Sleek size
At just over 2″ tall, the Bose Smart Soundbar 300 is designed to sit low in front of your TV for an unobtrusive view of the screen. Wall mount available.
QuietPort™ technology
Precisely placed micro-screens virtually eliminate distortion for cleaner, smoother bass.
Voice4Video™ technology 
Exclusive Bose technology expands your Alexa voice capabilities to combine several steps into one. With one command, jump right to your favorite TV shows — instantly. 
Real-time tuning
Custom software automatically analyzes what's playing — movies, music, shows, or games — and fine-tunes the sound to optimize your listening experience.

Built-in voice assistants
With Amazon Alexa and Google Assistant, you can control your entertainment, manage your day, and get information hands-free. 
Exclusive Bose Voice4Video™ technology expands your Alexa voice capabilities like no other soundbar can. In addition to controlling your Bose Smart Soundbar 300, you can control your TV and cable or satellite box with just your voice. No remote. No buttons. No nothing. Turn on your TV and jump to your favorite station all with one simple ask of Alexa. Even your tech-troubled guests or gameday partygoers will feel like experts. Just say, "Alexa, watch NFL Network." to start watching instantly. It's the fastest way to watch what you love with who you love.
Bose SimpleSync™ technology allows you to pair your Bose Smart Soundbar 300 with compatible Bose products. Want to watch TV but not disturb anyone else? Pair your soundbar with select Bose headphones for a personal TV listening experience. Want to listen to the same music in different rooms at the same time? Pair your soundbar with a select Bose Bluetooth speaker to add more sound around the house.
When it comes to what you want to hear, you have so many options. With Wi-Fi, Bluetooth, Apple AirPlay 2, and Spotify Connect compatibility, you can wirelessly stream whatever you want, however you want. Browse your favorite music services or play anything from your phone or tablet. If you can get it on your device, you can hear it through the Bose Smart Soundbar 300. Music services may vary.
The Bose Smart Soundbar 300 uses a single connection to your TV via an optical audio cable (included) or an HDMI cable (sold separately). Simply connect the soundbar to your TV, hook it up to power, and turn it on. Then download the Bose Music app to complete your setup, connect to your Wi-Fi, and choose your voice assistant.
The Bose Smart Soundbar 300 is part of the Bose Smart Family, designed to wirelessly work together. Create a group of multiple products so you can seamlessly play music throughout the house. You can also pair your soundbar to select Bose portable Bluetooth speakers for a 1-to-1 connection with Bose SimpleSync™ technology. 
Support
Quick start guide
Owner's guide
Google and Google Play are trademarks of Google LLC.
Google Assistant is not available in certain languages and countries.