CELEBRATING PASSION AND EXCELLENCE
TEAM 261 FEARLESS
Photo credit: Boston Herald
When you challenge conventional thinking, you spark change.
Our company was practically founded upon that very idea. Same for Kathrine Switzer's organization, 261 Fearless, a global community of women who encourage each other to take on personal challenges through running or walking. To forge a new personal path, essentially.
Because years ago, Switzer did just that.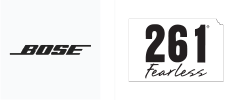 KATHRINE'S STORY, THEN…
In 1967, "K.V." Switzer received bib number 261 through an "oversight" in the entry screening process and became the first woman to officially run the Boston Marathon. Despite efforts from race officials to physically remove her from the course once she was spotted, she continued to run and finished in 4:20.
…AND NOW
This year's Boston Marathon marks the 50th anniversary of Switzer's historic run. And her 261 Fearless team, 125 runners strong, will join her on the course. Together, they inspire each other to reach their greatest potential. And, as the Official Audio Sponsor of Team 261 Fearless, we're happy to provide SoundSport headphones to help push them further in training.
We invite you to learn more about 261 Fearless, or lend your support.

125
RUNNERS
16 INTERNATIONAL COMPETITORS, 109 US COMPETITORS
10
COUNTRIES
INCLUDING WOMEN FROM AUSTRALIA, BELGIUM, CHINA AND MALAYSIA
22
STATES
WITH OVER 25 FROM MASSACHUSETTS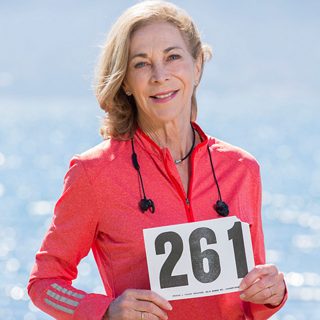 Essential gear for runners
SoundSport wireless headphones offer the comfort, performance and stability you need to fuel your run or workout.