Why Bluetooth® sunglasses with built-in speakers are what your life and wardrobe are missing
Bose Frames help you get more out of your day without missing any of it
Imagine you're listening to some music and wandering through town, on a hike, or out for a walk in the park. These are moments when you want to be present: taking in your surroundings, maybe helping a tourist who got lost, or chatting with a friend you happen to find along the way. But if you've got your headphones on, the first impression others get is "leave me alone."

That's where Bose Frames, our Bluetooth sunglasses with a soundtrack, come in. Now you get to listen to your own personal set of speakers without anyone ever realizing (unless you tell them of course!). We spent one year creating Bose Frames — one of the smallest wearable devices we've ever engineered. Why? Because we know people want personal, open-ear audio that keeps them connected to the world around them.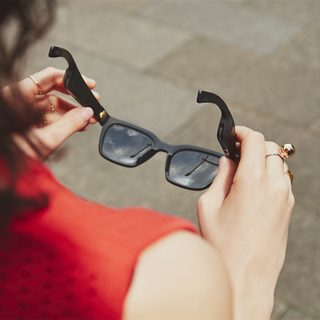 How do they work?
Frames connect via Bluetooth to your smartphone and use special technology that keeps your ears open, while directing sound into them. Inside each temple is a tiny 16 mm speaker, and ports on the outside and underside of the temple are designed to minimize the sound that transmits beyond your ears. There's a flat cable running through the gold-plated steel hinges of the sunglasses that sends audio, data, and power to these speakers. There's also a microphone in the right temple which makes it easy for friends and family to understand you on phone calls.

Built to be discreet
Most people say they feel kind of like they've gone undercover when they use Frames: able to listen to music, or a podcast, without anyone noticing. You get rich sound in which you can immerse yourself in, and even if someone is pretty close to you, they won't be able to hear much. So, you can bop along to that cheesy 90s pop song, with your fellow beachgoers being none the wiser.

Stay open to the world
With Frames you stay plugged into your surroundings, and if you see someone you know you can use the button on the right temple to press pause, skip forward, or back. The same button even lets you answer or end a call on your sunglasses. Bose Frames enhance your environment and help you get more of your day without missing any of it.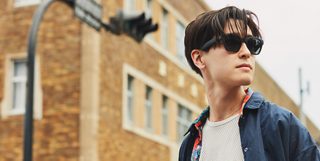 Light and simple
Frames weigh only 1.5 ounces (45 grams), making them a nice and comfortable alternative to headphones that fully cover your ears. You can also stream music for up to 3.5 hours on a single charge. So now instead of grabbing a full bag of electronics for your afternoon out, all you need are your sunglasses and your phone.

Classic style
A lot of gimmicky smart glasses can make their users look like human cyborgs. Frames are intentionally designed to look classic and timeless. They're available in a rounded design, aptly named Rondo, and in a more angular version, called Alto. You also have the option of customizing them with polarized or different color lenses. Bose Frames are already one of the top five premium sunglasses brands in the US — competing with the likes of Ray-Ban® and Oakley — and top 10 worldwide.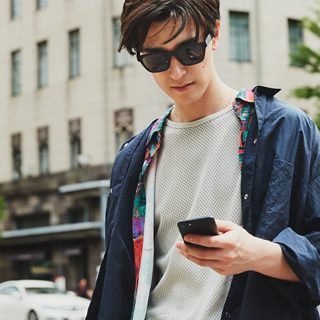 The future
Bose Frames have single, multi-directional motion sensors that have been built into them. These let you turn off Frames by turning them upside down. Frames are also enabled with Bose AR*, the world's first augmented reality platform. Bose Augmented Reality (AR) apps are being developed to give users unique and exclusive new experiences — such as collaborations with Disney's Star Wars and The Lion King until early 2020.

So the next time you're thinking about buying a new pair of sunglasses, think about upgrading to a pair of Bose Frames instead.

*Bose AR availability and features may vary by country.
Product availability may vary by country.