BOSE + SUPER BOWL LII
FOOTBALL FEELINGS
Real fans. Real passion for the game.

In the NFL playoffs, it's win or go home. The stakes are as high as ever, and so are fans' emotions. So we're going to tell the stories of diehards, and take a closer look at how it feels to experience classic, unforgettable moments. Follow along as we get closer to Super Bowl LII and head to Twitter, Facebook or Instagram to share your own #FootballFeelings. Explore the exclusive content below to really feel all the passion of postseason football.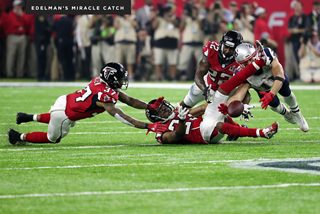 Fan feelings
For Patriots fans, watching this game unfold was like no other. This was an incredible play in an unbelievable comeback. And when it was completed: pure bliss.
Falcons fans were on the wrong side of the greatest comeback in Super Bowl history. It's hard to describe the disappointment. But they're staying devoted to their team.
The Falcons
The defenders made the play. They were right there. But sometimes, it's just out of your control. They may have lost the game, but their effort never let up.
Julian Edelman
"You just can't give up on the ball. And when they called it a catch … we were still behind in the game. It's not like we were sitting there celebrating." His feelings after the win? "After the adversity we overcame to win … it's straight nirvana."
Creating new football feelings with our coach's headsets
Legendary moments are made on the field every postseason. But it's all orchestrated beforehand, behind the scenes, thanks to our coach's headsets. With the game on the line, regardless of noise and the elements, they rely on our headsets to call the plays that thrill the crowd. It's the same technology we put into our headphones—the ones that deliver the thrill of your music.