Overview
A professional communication headset

The Bose SoundComm B40 Headset is engineered to deliver the best combination of noise cancellation performance, clear communication, comfort, and durability to live event professionals, production crews, and sport sideline coaching and support staff.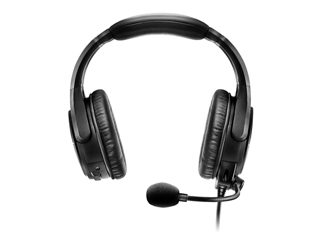 Active noise reduction
Bose acoustic noise cancellation technology monitors the noise environment and creates an opposite signal to cancel noise instant by instant. This reduces background noise in loud environments, enabling improved communication and intelligibility.

Long-term comfort
Lightweight materials, intelligent weight distribution, dedicated left and right earcups, and minimal clamping force allow for hours of comfortable wear.

Durable, weather-resistant design
Durable and robust design made to endure the wear and tear of everyday use and the temperature and environmental extremes in outdoor environments.

Side-swappable microphone and cable
Easily switch the mic and thin new flexible down cable from the left to right earcup by loosening and retightening the self-retaining screws.

Dynamic microphone
Weather-resistant 150-ohm dynamic noise cancellation microphone optimizes intelligibility and provides far-field noise rejection to enable clear outgoing communication.

High-performance earcup cushions
A proprietary Bose design creates an acoustic seal to maximize audio performance and noise reduction without sacrificing comfort.

Active equalization
Bose proprietary electronic circuitry shapes and equalizes incoming audio signals for clear, intelligible intercom audio.

A must-have for high-noise environments where communication is critical

Audio clarity and speech intelligibility are key to every successful live broadcast and event, so we equipped the SoundComm B40 with proprietary Bose acoustic noise cancellation technology to reduce distracting background noise. Then we added a dynamic noise cancelling mic which optimizes intelligibility and provides far-field noise rejection to enable clear outgoing communication.

Tested and proven on the sidelines of the NFL, the B40 builds on the strengths of the SoundComm B30 coaches headset. The B40 features Bose acoustic noise cancellation technology which reduces crowd noise and helps to facilitate focus for professional, college-level, and high school sports coaching and sideline support staff.

The B40 includes everything you need to get connected right away — 4-pin XLRF and 5-pin XLRM variants ensure compatibility with many major intercom systems, and a universal belt pack bracket and belt clip kit attach the control module directly to the user.

Acclaimed Bose headset service is available in all major markets. The B40 comes with a one-year warranty in North America and a two-year warranty in Europe.
Specs
On-head weight (not including cable)

Microphone type:
150-ohm Dynamic Noise Cancelling
Headset variants:
4-pin female XLR connector
5-pin male XLR connector
SoundComm B40 Headset (single earcup or dual earcup)

Carry case

Two AA alkaline batteries

Belt pack bracket

Belt clip
Support
Quick start guide
Owner's guide