QuietComfort 35 wireless headphones I
Lose the noise and wires. Lose yourself in the music.
Overview
Our first wireless QuietComfort headphones

You wanted wireless QuietComfort headphones. So we re-engineered them with Bluetooth® technology and our world-class noise cancellation that makes quiet sound quieter and music sound better. So you can just listen. With nothing in the way.
Note: This Refurbished original version of QC35 headphones does not include the Action button as found on the QC35 headphones II.
It's magical to the ears. But it's not magic.
You feel it at the flip of a switch—noise fades, and your music soars. That's the power of our Acoustic Noise Cancelling technology, which continuously measures, compares and reacts to outside noise—then cancels them with the opposite signal.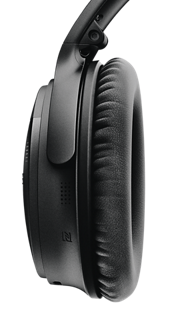 SURROUNDING NOISE
OPPOSING SIGNAL
See how it all fits together
How did we seamlessly merge Bluetooth and noise reduction technology together without compromising our premium audio performance? By obsessing over every detail.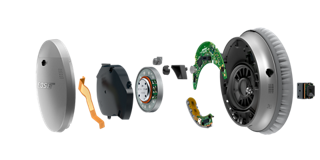 Up to 20 hours battery life
They say you can't get long battery life from wireless headphones. We say, "Try ours." Enjoy up to 20 hours of listening, enough time to pour through this entire playlist. And when it finally runs down, a quick 15-minute charge gives you another 2.5 hours.

Built better
When you want to take your music anywhere, you need headphones built to keep up. With impact-resistant materials, glass-filled nylon and corrosion-resistant stainless steel, they're engineered to survive life on the go.
Materials matter. That's why the QC35 headband isn't just soft, it's luxurious. Wrapped in Alcantara®—the soft covering material used by prestigious international companies in various applications, like yachts and high-end automobiles—it provides a welcome comfort designed for all-day listening. The ear cushions are manufactured from a synthetic protein leather, and have a silicone bead for passive noise reduction.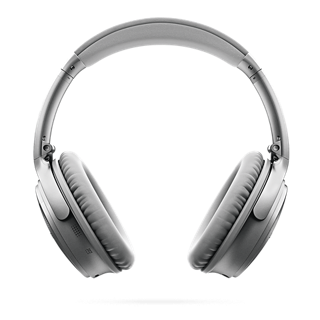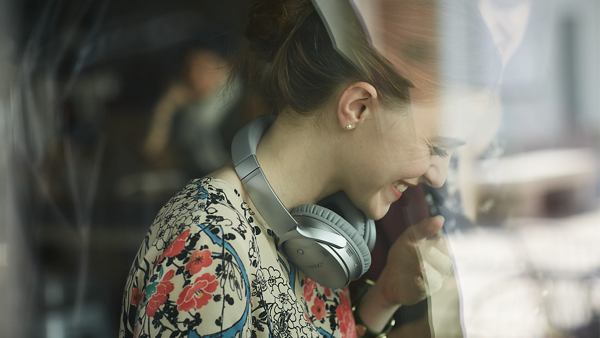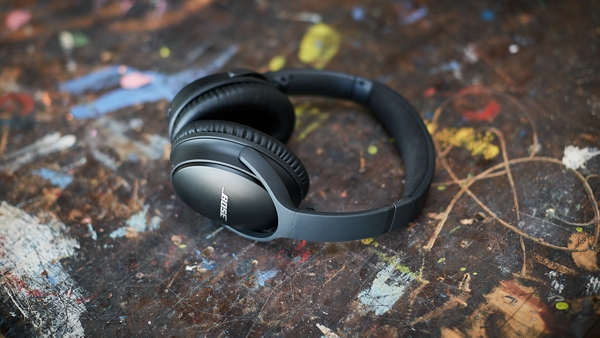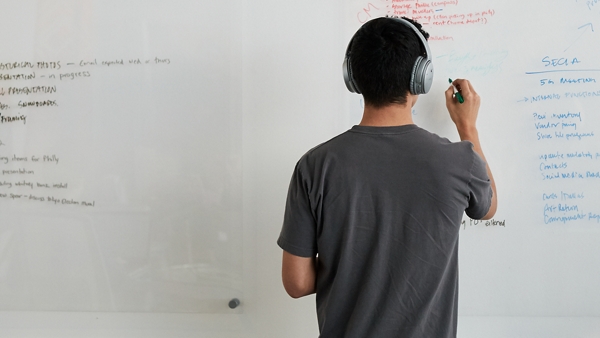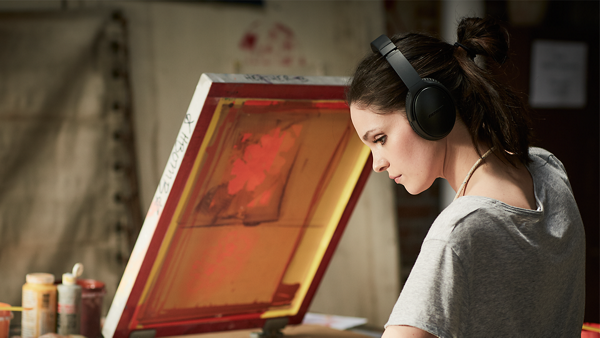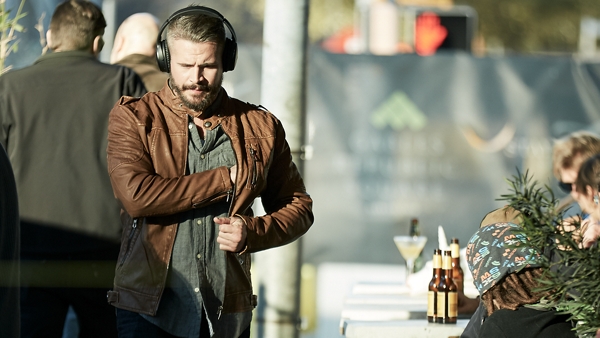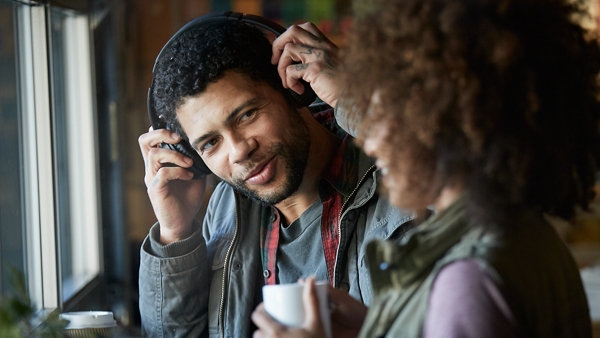 Love your QC35s? We want to hear how they sound, how much noise they block or how easy they are to travel with. Post your photos on Instagram using #QC35 and tag @Bose to share your story.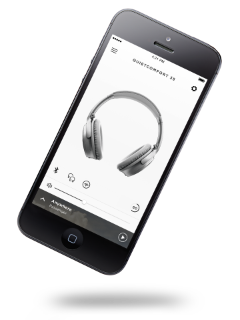 One app. Complete control.
The Bose Connect app gives you easy access to everything your product has to offer. Get tips, unlock product features and personalize your settings, so you can spend more time enjoying the music instead of setting it up.
Whether you're in an airport or a library, you can also choose just how much you want to hear (or don't) by adjusting the levels of noise cancellation. And remember, sharing is caring. You can connect two wireless Bose headphones, so you and your friend can listen to the same thing at the same time. Hope you have a good playlist lined up.
Specs
Dimensions/weight without the cable
Headphones:

7.1" H x 6.7" W x 3.2" D (8.3 oz)

Audio only cable:

47.2"

USB cable:

12"
What's in the box?
QC35 wireless headphones I – Refurbished

USB charging cable

Audio cable for wired connection

Airline adapter

Carrying case
FAQs
What is a Bose Refurbished product?
Refurbished products are a great way to enjoy Bose performance at an outstanding value. A Refurbished product is one that's been returned to Bose, for any reason.
It's then thoroughly inspected, tested and serviced to meet strict Bose sound quality standards—same as a new product. Appearance is closely examined; products occasionally have minor, nearly imperceptible blemishes. All Refurbished products have the same warranty as new products. And are available only from Bose. Quantities are limited.

What is the difference between QuietComfort 35 wireless headphones and QuietComfort 35 wireless headphones Series II?
QuietComfort 35 headphones Series II offer the same unmatched combination of acclaimed noise reduction technology, wireless freedom, audio performance, dual-microphone system and 20-hour battery life as QuietComfort 35 headphones. However, QuietComfort 35 wireless headphones Series II also have a new Action button on the left earcup. In countries and languages where virtual assistants, like Amazon Alexa or the Google Assistant, are available, the Action button gives you instant access to voice controlled tasks. In countries where virtual assistants are not available, it lets you quickly toggle through three different ANR settings for optimal performance wherever you go.
What is the difference between QuietComfort 35 wireless headphones and QuietComfort 25 Acoustic Noise Cancelling headphones?
Our QuietComfort 35 headphones offer the same unmatched combination of acclaimed noise reduction technology, audio performance and comfortable fit as QuietComfort 25 headphones. However, QuietComfort 35 headphones offer the convenience of wireless Bluetooth performance, as well as features like a dual-microphone system, voice prompts, intuitive controls and a 20-hour battery life. They also have the added benefit of volume-optimized EQ, which ensures Bose quality audio at all volume settings.
What is NFC?
Near Field Communication (NFC) is a short-range wireless technology that enables two NFC-enabled devices to communicate when they are placed in close proximity, typically less than 4 in (10 cm). For QuietComfort 35 headphones, NFC is used to facilitate Bluetooth pairing. When an NFC-enabled device, such as a smartphone, is placed near the right earcup of the headphones, it pairs them to the device via Bluetooth. Placing the device near the earcup a second time will unpair the headphones.
Can QuietComfort 35 wireless headphones take calls?
Yes. QuietComfort 35 headphones have a dual-microphone system to allow you to use them during calls when connected to a smartphone that supports the Bluetooth HFP profile. In addition to traditional calls, the headphones will work with many apps that use Voice over Internet Protocol (VoIP), such as Skype or FaceTime. The dual-mic system helps reject wind and background noise to ensure an exceptional far-end experience, while sidetone lets you hear your own voice so you sound natural when speaking on a call.
How do I pair QuietComfort 35 wireless headphones with my mobile device?
For NFC-enabled phones, simply turn on the headphones by sliding the three-position power switch to the middle position. Then tap the back side of your phone on the front of the right earcup where you see the embossed NFC logo, and follow the prompt to accept a connection. If you don't have an NFC-enabled phone, first, make sure the headphones are turned on by sliding the power switch to the middle position. Next, press the power switch to the Bluetooth icon until the Bluetooth LED flashes blue or the voice-enhanced user interface gives you additional directions. Now, follow the directions within the smartphone's Bluetooth menu to connect the headphones. The NFC function in iPhone 6/6 Plus or 7/7 Plus only enables Apple pay functionality. It doesn't facilitate pairing. Please use pairing instructions for phones that are not NFC enabled.
Can QuietComfort 35 wireless headphones simultaneously be connected to two mobile devices?
Yes. Multi-point technology allows QC35 headphones to maintain a connection to two devices at the same time—for example, an iPad and a smartphone. So while you're watching video on the connected iPad, the headphones will automatically pause the video to answer a call from the connected smartphone. When the call is finished, the headphones switch back to the video on the iPad. Please note that audio can be streamed from only one device at a time.
What is the range of QuietComfort 35 wireless headphones?
QuietComfort 35 headphones have a range of 33 feet (10 meters) from the source device, typically being the room you're in and the adjacent room. This range may be reduced by physical obstructions, such as walls and doors, or by interference from other electronic devices. If that happens, move away from wireless routers or microwaves and bring your headphones closer to the Bluetooth device.
How do I charge QuietComfort 35 wireless headphones?
QuietComfort 35 headphones can be charged using the USB cable supplied in the box and plugging it into a USB port on a computer or a wall charger (sold separately). Allow up to 2.25 hours for the headphones to fully charge. Once it is fully charged, the battery indicator light will turn green.
How long will the battery stay charged?
QuietComfort 35 headphones use a lithium-ion rechargeable battery that stays powered for up to 20 hours while using the headphones wirelessly and up to 40 hours for wired use.
Can you listen to music when the battery runs down?
Yes. These headphones allow users to continue to listen to their source even if the battery power is depleted. However, without power, neither active noise cancellation nor Active EQ is able to function.
Can I charge QuietComfort 35 wireless headphones from my PC/laptop?
Yes. QuietComfort 35 headphones come with a USB cable that allows the headphones to be charged from your PC or laptop. Please note that the PC or laptop must be on and awake in order to charge over USB.
What are the buttons for on the back of the right earcup?
The larger middle button is the multi-function button. It initiates play/pause and other track controls for videos and music, answers and ends calls, and can also initiate voice commands such as Siri or voice dial. The buttons on either side of the multi-function button are volume +/- buttons. They allow you to easily adjust volume in an intuitive up/down vertical orientation.
QuietComfort 35 wireless headphones I
Lose the noise and wires. Lose yourself in the music.