Overview
Overview
ANY SONG + ALEXA.
IN ANY ROOM.
For a limited time, we're offering a bundle of our SoundLink Mini II with the new Amazon Echo Dot with Alexa. Experience full-range performance from SoundLink, and access music streaming services like Amazon Prime Music, Spotify, Pandora, iHeartRadio and TuneIn. It's big sound for your music, plus the convenience of voice control.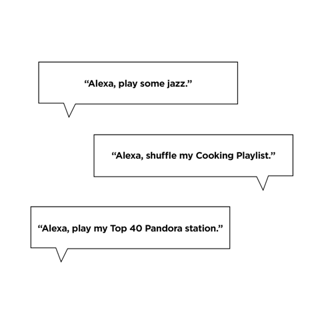 So, what's the Amazon Echo Dot? It's a convenient, hands-free way to use Alexa, Amazon's smart voice control assistant, over your home Wi-Fi® network. Alexa can play music, get your news, manage smart home devices and more. So when you pair it with a SoundLink Mini II, it plays everything back in full-range sound.
And the bundle makes streaming music easier than ever. Just pair your speaker with Echo Dot and tell Alexa what you want to hear. It gives you voice-controlled access to streaming music services like Amazon Prime Music, Spotify, Pandora and more, and can hear you from across the room—even when music's playing.
Leaving the house? Grab your SoundLink Mini II and go—it's a powerful, portable speaker that goes anywhere.

Voice control at home. Music on the go.
Your playlists. Wherever you play.
Don't leave your music behind. Enjoy wireless freedom with the SoundLink Mini speaker II. Weighing in at just 1.5 pounds, it's small and light enough to tuck into your bag. It has a low profile that lets you place it almost anywhere and provides a low center of gravity that makes it nearly impossible to tip over.
And when you stay home, Echo Dot is easy to move around with your speaker. It's only a few inches round, and built for any room. If you find a permanent spot for them, you can use the charging cradle for your SoundLink Mini to keep the music playing indefinitely.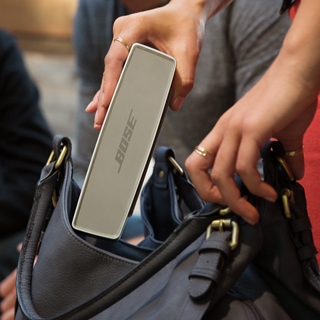 Any song from almost any device
What other devices pair with the SoundLink Mini II? Smartphones and tablets. Or your friends' smartphones and tablets. If it's a Bluetooth device, you have all you need for any song you want to hear.
And the SoundLink Mini has a reliable Bluetooth range of about 30 feet, so it doesn't have to be right next to your Echo Dot. Alexa will still pick up your voice from across the room, even if music's playing.
ENGINEERED TO TRAVEL
You'll hear your music, speakerphone calls and Alexa responses in surprisingly full sound. But small, portable speakers aren't typically known for powerful performance. Well, SoundLink Mini II isn't your typical Bluetooth speaker. So, what's the key to making something this small sound this big? Exclusive technologies that really bring it. Like dual passive radiators that deliver deep low notes and minimize vibrations, or high-efficiency transducers that perform two times better than typical ones their size.

These deliver surprisingly deep low notes and face in opposite directions to minimize vibrations.


High-efficiency Transducers

The transducers in SoundLink Mini II move twice as much air for their size as typical transducers—and more air movement means more powerful sound.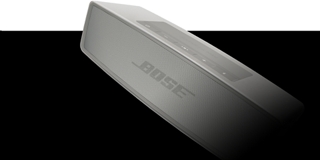 Better by design
The SoundLink Mini II is designed for sleek simplicity. Its single-piece aluminum casing is durable and ultra-compact, and it features a built-in microphone for speakerphone calls. Controlling it with your Echo Dot is quick and easy, too. Just ask for your favorite artist or playlist, control volume and change tracks—all with your voice.


Colorful, protective covers
Additional soft covers allow you to customize the appearance of your speaker while providing added protection for the aluminum body from scratches or abrasions. Available in an assortment of colors.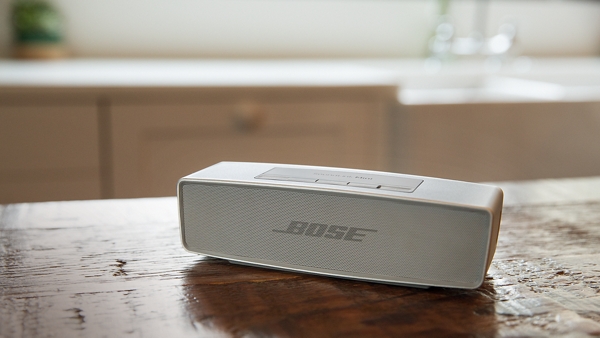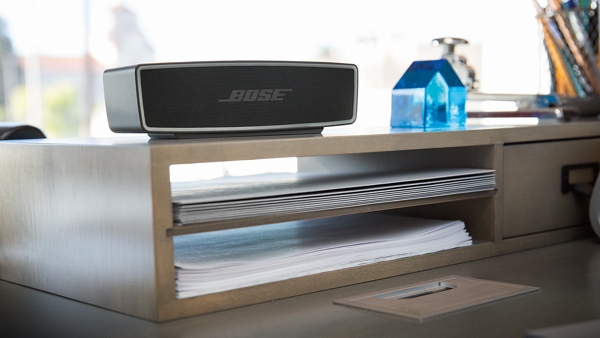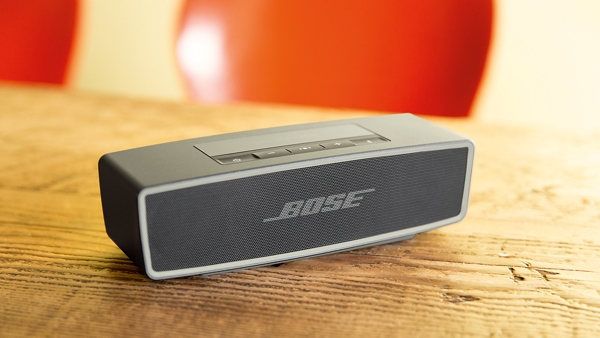 Specifications
Specifications
Dimensions/weight without the cable
Speaker:

2" H x 7.1" W x 2.3" D (1.5 lbs)

Charging cradle:

0.63" H x 6.2" W x 2" D (2.8 oz)

Wall charger:

2.65" H x 1.9" W x 0.6" D

Cable:

59.1" L

Echo Dot:

1.3" H x 3.3" W x 3.3" D (5.7 oz)
Speaker details
Wireless range up to 30 ft (9 m)

Battery life up to 10 hrs

Power rating: 100 – 240V
Inputs/outputs
3.5 mm auxiliary

Micro-B USB cable
What's in the box?
SoundLink Mini Bluetooth speaker II

Charging cradle

Wall charger

Cable

Amazon Echo Dot
Reviews
FAQs
FAQs
What are the benefits of using these two products together?
When paired, the Bose speaker is the audio output of Echo Dot.
When you talk to Alexa, output will be Bose quality sound.
Connect Echo Dot with the SoundLink Mini II to make every interaction with Alexa sound amazing.
Playing music on the SoundLink Mini is now easier than ever: Just say "Alexa, play [band name]."
Enjoy all of the Alexa features with better sound: Access music, news, alarms, weather and much more using just your voice.
Give your SoundLink Mini phone-free access to Spotify, Pandora, Amazon Prime Music, iHeartRadio and more through Alexa.
How do I set up these two products together for the first time?
Simply follow the Amazon Echo Dot setup instructions, as they apply to Bluetooth speakers (except those that require a PIN).
Will the Amazon Echo Dot work with my other Bose SoundLink Bluetooth speakers?
Yes, as the Amazon Echo Dot is compatible with Bluetooth speakers (except those that require a PIN). However, the best compatibility is with the SoundLink Mini II, because older Bose Bluetooth speakers may experience some Bluetooth connectivity issues. So far the only product we're tested for full compatibility is the SoundLink Mini II.
How do the SoundLink Mini and the Amazon Echo Dot work together?
With the Amazon Echo Dot connected to the SoundLink Mini, you can ask Alexa to play music and it will come out of the SoundLink Mini speaker. The microphones on Echo Dot pick up your voice command, and Echo Dot sends the Alexa audio response to the SoundLink Mini speaker over Bluetooth.
What are my options for connecting the two products?
You may connect via Aux or Bluetooth. While an Aux connection is possible, we strongly recommend all connections be made via Bluetooth to ensure ideal experience of the bundle.
Can I still use my phone to play music or take phone calls through the SoundLink Mini?
Yes. To play music or take calls from a smartphone, simply select the SoundLink Mini in your phone's list of Bluetooth paired devices. When you're done, you may want to reconnect Echo Dot to the SoundLink Mini so Alexa is ready the next time you need it.
What kind of audio sources can I use with the SoundLink Mini Bluetooth speaker II?
The speaker is designed specifically for use with today's most popular Bluetooth devices, such as smartphones, tablets and laptops. In addition, it includes an auxiliary input for a wired connection to an MP3 or similar portable player.
How do I control the speaker?
Power and volume controls are located on the speaker itself. Otherwise, use your smartphone or other paired device to select a playlist, streaming audio source, etc. No remote control necessary.
What is the wireless range of the SoundLink Mini speaker II?
On average, the speaker will work within 30 feet of your paired Bluetooth device. Walls and construction materials can affect reception at times.
Can I stream music (Pandora®, Rhapsody®, etc.) from my computer to the SoundLink Mini speaker II?
Yes, as long as your computer is enabled for Bluetooth and is within 30 feet of the speaker.
What happens when my phone is streaming music to the SoundLink Mini speaker II and a call comes in?
When a call comes in, the music will pause, and the call will ring through the speaker. You can answer the call by pressing the multi-function button and talk into the speaker itself to conduct your phone call. When you end your call, music playback resumes.
How do I check battery life?
When the speaker is turned on, the battery indicator lights up for 10 seconds, then turns off to conserve power. To check the charge, press and hold the power button to turn the indicator light back on. Green = 70% or more charge; yellow = 20 – 70%; red = less than 20% battery life.
What is the playing/charging time of the battery?
Battery performance varies depending on the content and the volume at which it's played. In typical usage, a fully charged battery gives you up to 10 hours. The battery will fully charge in four hours using the included cradle or wall charger, possibly longer with some USB sources or while playing music.
What purpose do the voice prompts on the SoundLink Mini Bluetooth® speaker II serve?
The voice prompts serve two key purposes. First, they provide guidance during the Bluetooth pairing and connection process so the customer understands how it works. Second, they identify the connected source devices by name, simplifying usage with more than one source device.
Can I use the SoundLink Mini speaker II as part of my home wireless network?
No, the SoundLink Mini speaker II works only with the Bluetooth wireless protocol.
Can the SoundLink Mini speaker II be used to provide audio for video, such as for watching a movie on a tablet?
Yes. However, the quality of the experience—specifically, synchronization between audio and video—can be influenced by the Bluetooth implementation on the viewing device. You will get the best performance by keeping the SoundLink Mini speaker II and the device in close proximity, which minimizes wireless interference. Use of Wi-Fi® in the area also may affect performance.
Support