SoundTouch® 20 Series III wireless music system​

Buy now

$349.95
Overview
Overview
MUSIC MAKES THE MOMENT



Imagine having instant, easy access to millions of songs, thousands of radio stations and all your stored music, anytime you want it. You could kick-start your morning with the perfect high-energy playlist, enjoy Internet radio as you whip up dinner, or add some ambiance to your evening. The SoundTouch 20 wireless speaker brings it all home, packing enough clear, robust sound for bedrooms, kitchens and most other rooms. To stream a world of music, just install the free SoundTouch app on your device. Then follow these simple steps:
2
Connect it to your Wi-Fi®
3
Control it all with the app
Less effort, more music

With SoundTouch, we put a lot of thought into taking the thinking out. You can listen whichever way you want, without worrying about which technology is best. This compact wireless speaker lets you play music directly from a phone or tablet using Bluetooth®, or connect the speaker to your Wi-Fi network for instant in-home listening, without the need for your phone.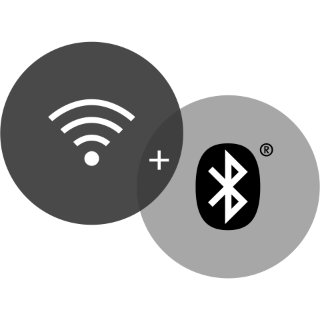 THE SCIENCE BEHIND THE SOUND


You want to fill your room with music, not equipment. The SoundTouch 20 wireless speaker is just what you're looking for. While it has a small footprint, it's engineered for exceptional sound. Not only will you get the most from your music—you'll also get our obsession with delivering better sound.
ONE SYSTEM FOR A WORLD OF MUSIC
SoundTouch speakers give you wireless access to popular music services like Spotify® and Pandora®, Internet radio stations and your stored music library. All in one system.

Made for the way you live. And the way you listen.


Fill an apartment with sound or flood a home with music. SoundTouch speakers are made for the way you live—and they're made to grow with you, too. Once you have one, you can add more at anytime. They all work together. So as you go room to room, your music goes along with you. Use them to play different music in different rooms, or the same music in every room.
SoundTouch app


The free SoundTouch app gives you greater control of your SoundTouch speaker from a smartphone or tablet. Use it to browse music—and control that music throughout your home. Start streaming instantly, or use the app to personalize the presets to your favorite playlists and stations.
INSTANT LISTENING




Only SoundTouch lets you save your favorite music with six preset buttons for instant listening, so you don't have to waste time searching for your favorites. Assign a preset for your best Spotify party playlist, another for the Internet radio station you recently discovered, and a third for all the tracks ever recorded by that artist you love. You can set them to your music library, podcasts, albums, etc.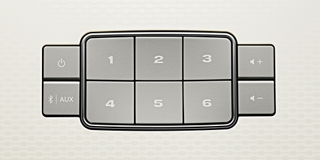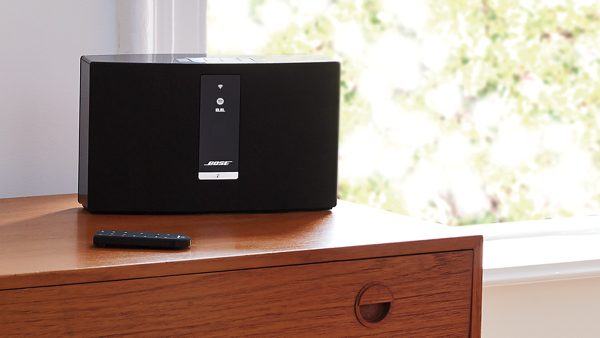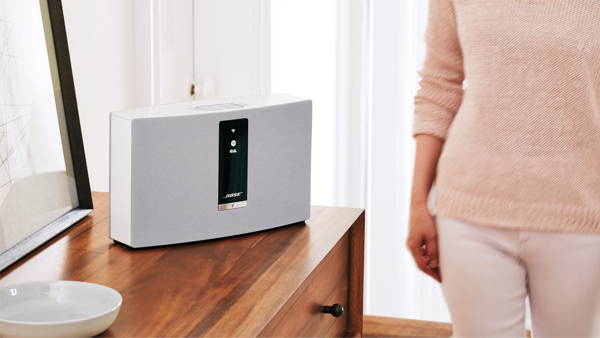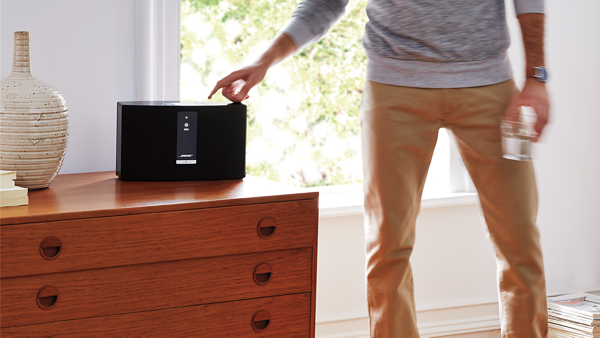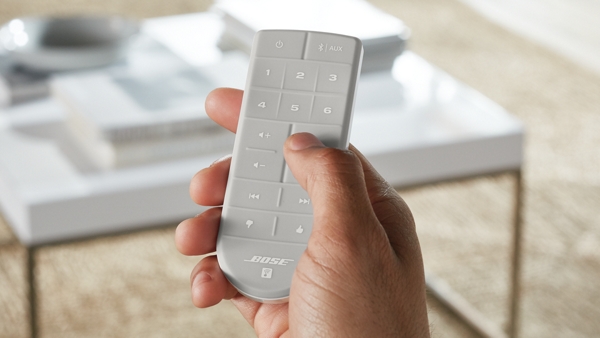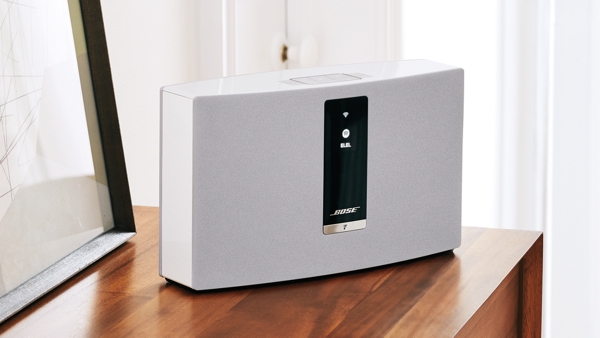 Specifications
Specifications
Dimensions/weight
System:

7.4" H x 12.4" W x 4.1" D (7 lbs)

Remote:

4.5" H x 1.75" W x 0.5" D (1.76 oz)
Additional details
Built-in Wi-Fi and Bluetooth streaming

OLED display

Wireless network compatibility: 802.11 b/g/n

Supported audio formats: MP3, WMA, AAC, FLAC, Apple Lossless
WHAT'S IN THE BOX?
SoundTouch 20 wireless music system

Power cable

USB cable

Remote control
Reviews
FAQs
FAQs
What is needed to set up my SoundTouch speaker?
All you need is a home Wi-Fi network and a smartphone or tablet. Everything else required is included in the box.

What Internet streaming music can I play?
SoundTouch speakers let you play Internet radio stations from around the world. Where available, you can also play Internet music services like Spotify®, Pandora®, iHeartRadio™, Deezer, Sirius and Amazon.
Can SoundTouch speakers be used in a public Wi-Fi® spot (airports, coffee shops, etc.)?
No. Although most of these networks are free to use, their sign-up/sign-in processes differ from the SoundTouch app setup process. SoundTouch products are designed for in-home use, not on the go.

Can I play music stored on my computer?
Yes. SoundTouch speakers can play music stored on your computer that is managed by iTunes or Windows Media Player.

How many speakers can I have on my network at one time?
It depends on the bandwidth of your home Wi-Fi network. For most homes, we expect you can have up to four speakers connected wirelessly. For more than four rooms, we recommend using Ethernet wired connections to some of them.

Can I stream different music to different rooms?
Yes, if you have multiple SoundTouch products, you can stream different music in different rooms, the same music in every room or customize zones to play what you want where you want.

What operating systems are compatible with the SoundTouch app?
The app is compatible with Windows® 7, 8, 10; 64-bit Macs running OSX 10.7 and later; any iPhone, iPad or iPod touch running iOS7 and later; Android devices running Android 4.1 and later.

What are the differences between the SoundTouch 10, 20 and 30 wireless speakers?
Even though the SoundTouch 10, 20 and 30 all offer Wi-Fi connectivity, Bluetooth® connectivity and effortless one-touch presets to access your favorite streaming music, they each provide different levels of performance for different-sized rooms in your home. The SoundTouch 10 is our smallest SoundTouch speaker that delivers full, rich sound and Bose performance that seems to defy its size. The SoundTouch 20 is a compact, wireless speaker that delivers clear, room-filling sound. The SoundTouch 30 is our best-performing, one-piece wireless speaker with Bose waveguide speaker technology that produces deep, rich sound to fill your largest room. Another difference is that both SoundTouch 20 and 30 display in-depth song, artist, station and connectivity information on an OLED screen whereas the SoundTouch 10 displays simple connectivity information via 4 LEDs on the front of the product.

Can I play stored music from an NAS (Network Attached Storage) drive on SoundTouch speakers?
Yes, SoundTouch speakers are compatible with select NAS drives, including Synology's DiskStation, Passport + and Western Digital's My Cloud™, so you can stream your personal music library even while your computer is off.

Can SoundTouch speakers stream AM/FM radio or TV audio from one room to another?
No. SoundTouch speakers are designed to stream Internet radio, music services like Spotify or music stored on a computer.

Does the speaker support Bluetooth?
Yes. Users can wirelessly stream music from a Bluetooth device to listen to even more sources, such as YouTube.

Can I stream music from multiple computers using SoundTouch speakers?
Yes, as long as each computer has the SoundTouch app installed on it. Each computer appears as a separate library on the app's source list.

Does the speaker have a battery?
No, it does not have a battery.

Do the speakers support near-field communications?
No. SoundTouch speakers support Bluetooth connectivity pairing via the physical buttons on the speaker or the controller app.

Does the speaker support AirPlay?
No. Current speakers no longer support AirPlay. However, previous generation SoundTouch 20 and 30 speakers will continue to support it.

Can SoundTouch speakers be used together?
Yes. Any one of these speakers can be used with another system (from the current series or from a previous series) to create a multi-room audio system.
Support
Support
No downloads found for this product.