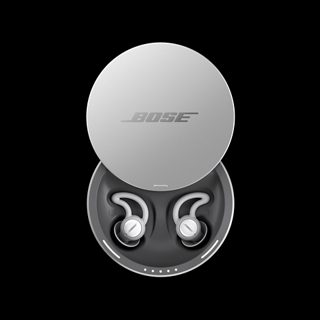 Bose noise-masking sleepbuds™

This product has been discontinued. We apologize for the inconvenience. We remain committed to developing innovative solutions to help people sleep better.
Join our mailing list to stay in the loop on our latest sleep innovations.

Overview


WIRELESS, COMFORTABLE FIT

Bose noise-masking sleepbuds™ are uniquely designed for sleep. But they don't stream music or have acoustic noise cancellation. Instead, these tiny, wireless earbuds use pre-loaded, soothing sounds to cover up unwanted noises, so you can get to sleep — and stay asleep.
Make sleepbuds part of your healthy sleep routine

Wind down and prep for a restful sleep

Sleep all night with help from soothing sounds
Pre-loaded sounds are specifically engineered to optimize sleepbuds' noise-blocking design. Each sound covers a range of unwanted noises. Find yours.
Sample popular soothing sounds. There are many more sounds available in the Bose Sleep app.

Tranquility
A spa-like, pleasantly droning melody.

Warm static
Similar to white noise, with distracting higher frequencies removed.

Swell
Rolling and crashing waves.

Downstream
A gentle stream.

Shower
Gentle rain falling on leaves.



Cascade
A cascading waterfall.

Rustle
Wind kicking up leaves.

Circulate
A fan with an electrical undertone, like an air conditioner.

Altitude
Airplane cabin ambient noise.

Campfire
Crackling fire and softly chirping crickets.
"I love the all-night ambient sound selections so I don't have to reset anything once I go to bed. Pure genius!"
- RestedinDallas, sleepbuds customer
Better together: Eartips and sounds engineered to cover noises that keep you up

Eartips snugly conform to your ear to passively block noise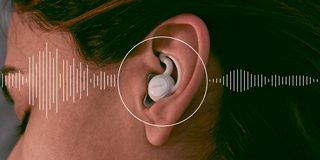 Then, soothing sounds take over to mask unwanted noise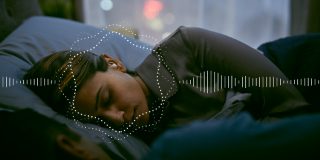 Sleepbuds use noise masking to help you get uninterrupted sleep. They play soothing sounds consistently, at frequencies that neutralize common distracting noises.

Switch sides in comfort while you sleep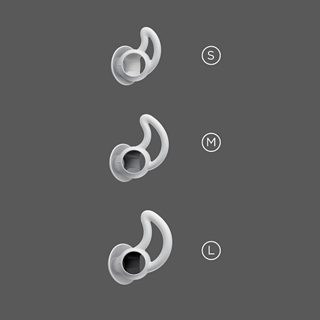 To get the best fit, choose from three sizes of tips, designed with a pliable fin that conforms to the upper ridge of your ear.
"They fit perfectly in my ears, even when I sleep on my side or stir and they stay in for the whole night with no discomfort."
- fxb123, sleepbuds customer
7:00 AM – BETTER MORNINGS
Wake up to an alarm only you can hear
Storage case protects and recharges your sleepbuds while not in use. A single charge provides up to 16 hours of use.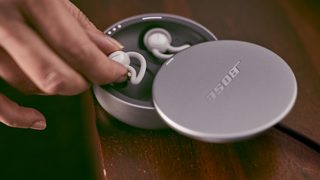 Are you sleeping better with your sleepbuds? We want to hear about it. Post your photos on Instagram with #sleepbuds and tag @Bose.

Specs
Dimensions/weight
Sleepbuds:

0.94" H x 1.06" W x 0.56" D (0.081 oz each)

Case:

1.06" H x 3.03" W x 3.03" D (3.93 oz)
Additional details
Rechargeable silver-zinc batteries

Charging time: Up to 8 hours for sleepbuds

Battery life: Up to 16 hours per full charge

Charging case: Up to 3 hours charging time
WHAT'S IN THE BOX
Bose noise-masking sleepbuds™

Charging/storage case

3 pairs of StayHear+ Sleep tips (S/M/L)

Wall charger

USB cable

Drawstring travel pouch
Support
Manuals/guides
Owner's guide
Quick start guide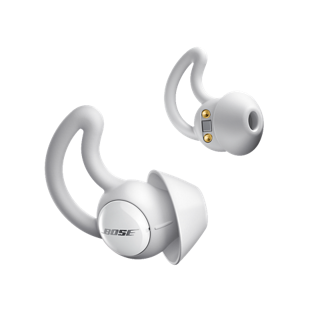 Bose noise-masking sleepbuds™
TINY EARBUDS FOR BETTER SLEEP.
ALL NIGHT. EVERY NIGHT.